Signatera is a highly sensitive and personalized molecular residual disease assay (MRD) using circulating tumor DNA (ctDNA), and is custom designed for each patient to monitor treatment response and identify relapse earlier than standard of care tools.
Use Signatera after surgery to evaluate the need for adjuvant chemotherapy
Use Signatera alongside CEA and imaging to detect recurrence earlier
Assess a patient response to treatment in the neoadjuvant, adjuvant or immunotherapy setting
Identify at-risk patients at a high risk of having progressive disease that need to be  triaged to appropriate CT scans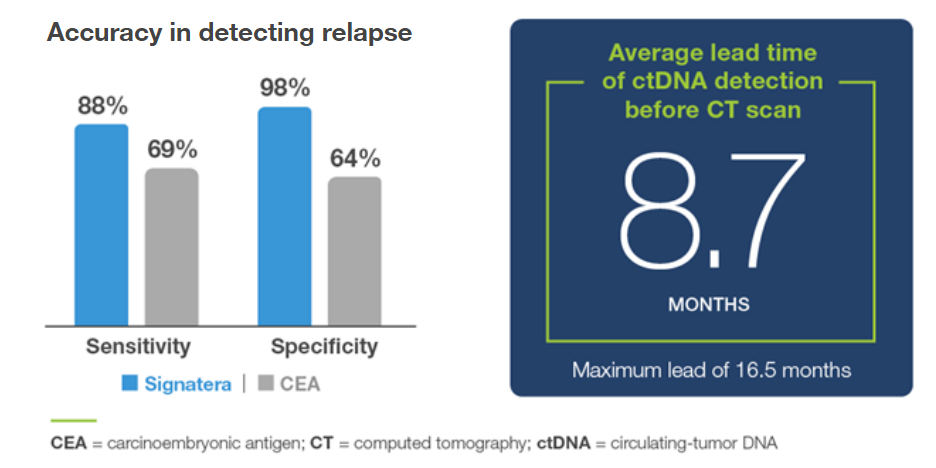 Prognostic of disease recurrence across multiple tumor types
Signatera is specifically designed and validated for molecular residual disease (MRD) detection and treatment response monitoring
Custom-designed using the patients own tumor tissue
Identifies and tracks tumor mutations at the source
Validated to detect disease recurrence across multiple tumor types1-5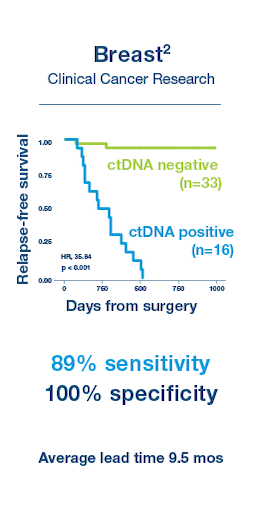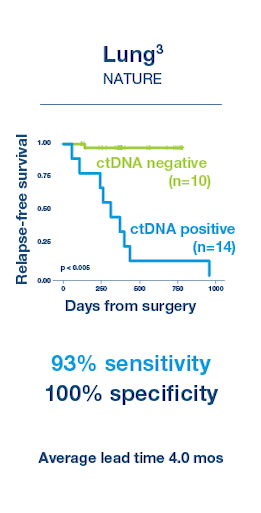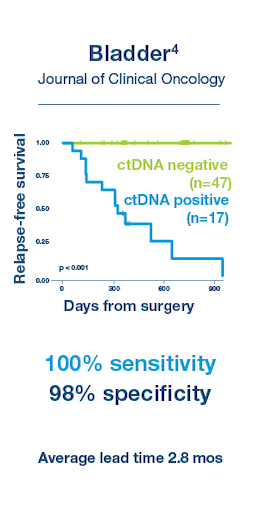 Clinical applications of ctDNA testing
Identify high risk patients
Would my patient benefit from chemotherapy?
Detect relapse earlier
Is the cancer recurring?
Monitor treatment response
Is the treatment working?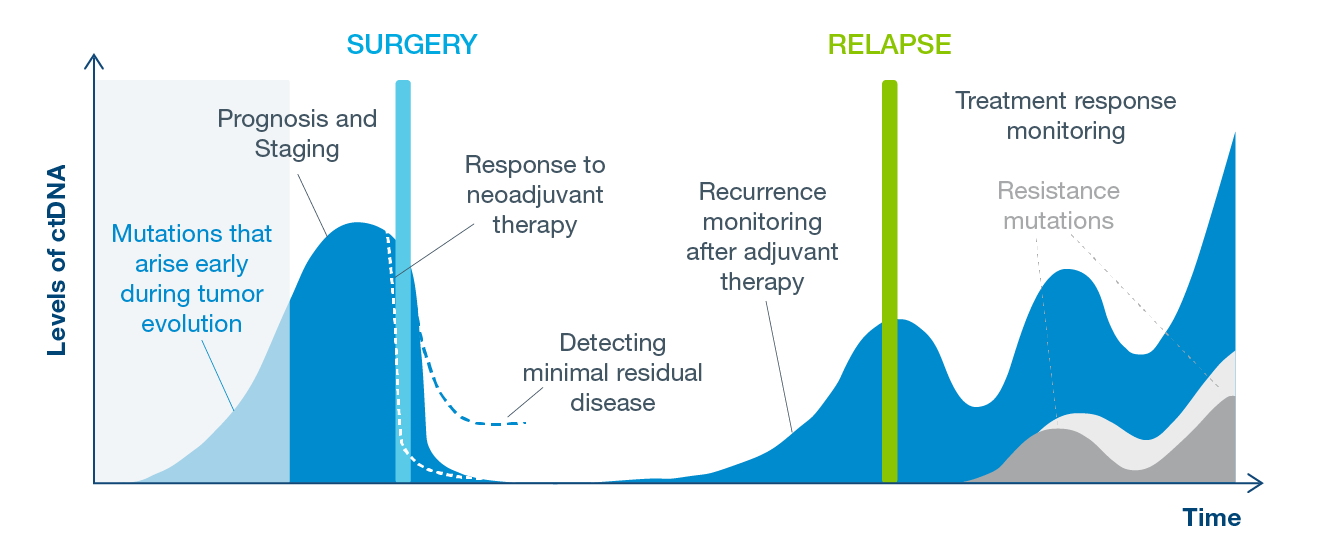 Does additional therapy benefit my patient?
Recent data from the largest MRD-guided trial demonstrated how personalized MRD testing using ctDNA may be used to effectively determine which patients benefit from additional therapy:
MRD-positive CRC patients at 4 weeks post-op benefit significantly from chemotherapy (HR 8.8-9.4)
MRD-negative CRC patients at 4 weeks post-op do NOT benefit significantly from chemotherapy
ctDNA remains a strong prognostic factor and has been reproduced in the largest prospective cohort to date
Click below to learn more what was discovered in this interim analysis.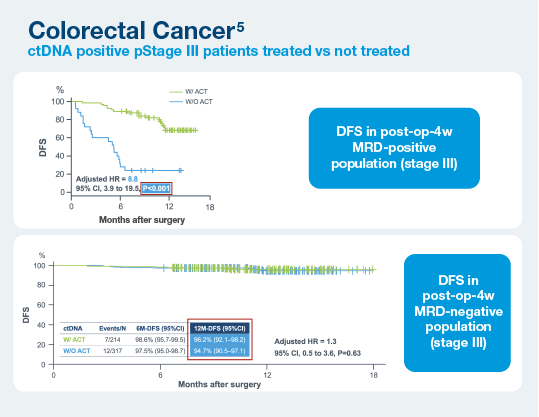 Increasing levels of ctDNA is strongly associated with poorer patient outcomes
As we have seen in recently presented data, stage III CRC patients who do not clear their ctDNA after curative intent treatment are likely destined to relapse.
Hear how Dr. Dayyani uses Signatera and ctDNA status in this stage III patient to help determine next steps to ensure the most favorable outcome.
Tracks ctDNA dynamics over time
Signatera is designed to detect residual disease with an ultra-low level of detection (0.01% MTM/mL)
Real time ctDNA analysis can help inform important adjuvant therapy decisions
Signatera can also track ctDNA dynamics so you can gain real-time insight of disease burden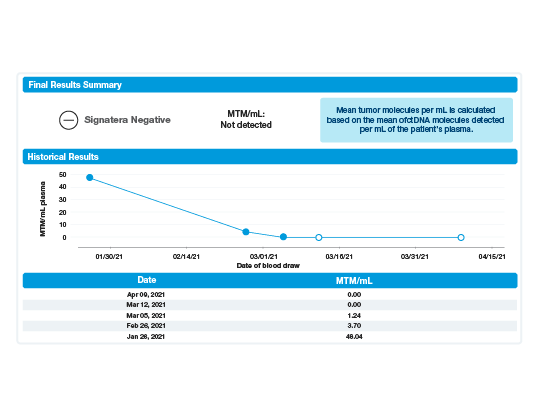 View our latest webinar which takes a closer look at the new data surrounding ctDNA
Our roundtable discussion included insights into common clinical challenges physicians face when managing their patients including:
Are clinicopathological features enough to prognosticate recurrence?
How can we use ctDNA to catch relapse earlier and potentially improve patient outcomes?
What does the recent data tell us about integrating MRD assays into clinical practice?
Hear how Beth was able to get back to living after her stage III CRC treatment
Beth's experience with Signatera was determined through shared decision-making with her treating physician and family. No treatment recommendations are made or should be implied
Is Signatera right for your patients?
We're here to help you find out
References
1Reinert T, Henriksen TV, Christensen E, et al. Analysis of Plasma Cell-Free DNA by Ultradeep Sequencing in Patients With Stages I to III Colorectal Cancer. JAMA Oncol. 2019.
2Coombes RC, Page K, Salari R, et al. Personalized Detection of Circulating Tumor DNA Antedates Breast Cancer Metastatic Recurrence. Clin Cancer Res. 2019;25(14):4255-4263.
3Abbosh C, Birkbak NJ, Wilson GA, et al. Phylogenetic ctDNA analysis depicts early-stage lung cancer evolution. Nature. 2017;545(7655):446-451.
4Christensen E, Birkenkamp-Demtroder K, Sethi H, et al. Early Detection of Metastatic Relapse and Monitoring of Therapeutic Efficacy by Ultra-Deep Sequencing of Plasma Cell-Free DNA in Patients With Urothelial Bladder Carcinoma. J Clin Oncol. 2019;37(18):1547-1557.
5Kotaka et al. Association of circulating tumor DNA dynamics with clinical outcomes in the adjuvant setting for patients with colorectal cancer from an observational GALAXY study in CIRCULATE-Japan. ASCO GI 2022