Inform Decisions for High Risk Patients

Identify patients with residual disease after surgery who may benefit from adjuvant treatment for high risk individuals
5.6x
higher risk of distant metastasis in patients with molecular residual disease (MRD) after surgery1

Detect Recurrence Earlier
Use Signatera™ serially to monitor and identify breast cancer patients at high risk of recurrence2
52x
higher risk of relapse in ctDNA positive versus ctDNA negative patients

Assess Treatment Response
Track changes in ctDNA levels to evaluate treatment response3
6 weeks
to understand response to immunotherapy treatment3
Detect Recurrence Earlier in High Risk Patients
Despite significant improvements in care over the past few decades, up to 30% of women with no evidence of disease after curative intent treatment will eventually relapse and succumb to their disease.4 Existing tools are inadequate at identifying recurrence early before the patient becomes symptomatic, and 10-15% of patients experience reduced performance status at recurrence, which limits treatment options.5
Longitudinal testing with the Signatera™ Residual Disease Test has been shown to identify patients at high risk of recurrence with 88% sensitivity and a median of 10.5 months (range 0-38 months) ahead of imaging2, allowing for potential intervention.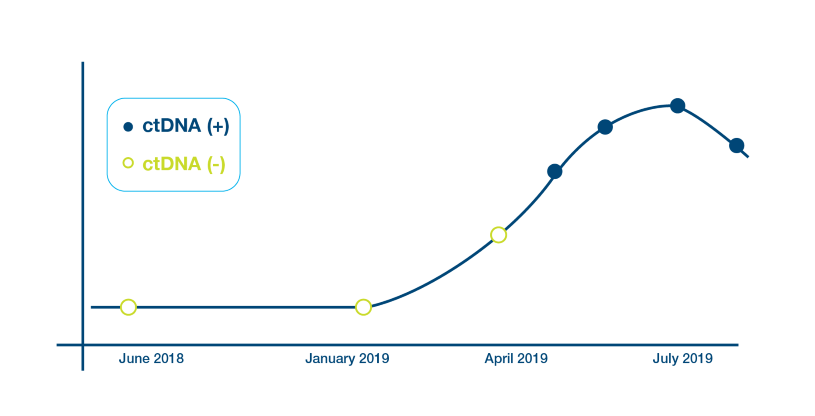 Inform Questions Across Breast Cancer Treatment

Explore the Peer-Reviewed Data in Breast Cancer
Guiding the Breast Cancer Patient Journey
Like many patients, Angela has faced many questions throughout her journey with high risk breast cancer – what's the next step in my treatment? Is the cancer ever going to come back? What's causing this symptom?
Listen to the story of how she and her doctor use Signatera™ to help monitor for recurrence and treatment response, giving Angela the peace of mind to move on with her life.
Ready to try Signatera™ for your breast cancer patients?
References
1Cutts R, et al. Detection of ctDNA following surgery predicts relapse in breast cancer patients receiving primary surgery. SABCS; December 7-11, 2021.
2Shaw JA, et al. Serial postoperative ctDNA monitoring for early detection of breast cancer recurrence. ASCO; June 3-7, 2022.
3Bratman SV, et al. Nature Cancer. 2020;1(9):873-881.
4Early Breast Cancer Trialists' Collaborative Group. Lancet. 2005;365:1687-1717.
5O'Connor T, et al. Clin Adv Hematol Oncol. 2013;11(6):341-347.
6Magbanua MJM, et al. Ann Oncol. 2021; 32(2):229-239.
7Magbanua MJM, et al. Comparison of the predictive and prognostic significance of circulating tumor DNA in patients with high risk HER2-negative breast cancer receiving neoadjuvant chemotherapy. AACR; April 8-13, 2022.
8Coombes RC, et al. Clin Cancer Res. 2019 Jul 15;25(14):4255-4263.