Signatera™
for Breast Cancer
A personalized, tumor-informed test to help monitor breast cancer and inform critical decisions for care.
Inform Decisions for High Risk Patients

Evaluate ctDNA dynamics during neoadjuvant treatment (NAT) to help assess risk of recurrence
4.35x
greater likelihood of recurrence for patients who do not clear ctDNA by 3 weeks into NAT1-3

Detect Recurrence Earlier
Detect recurrence ahead of conventional imaging and biomarker testing2
10.5 months
median lead time over radiographic recurrence (88% sensitivity)2,4

Assess Treatment Response
Track changes in ctDNA levels to evaluate treatment response3
6 weeks
to understand response to immunotherapy treatment5
Detect Recurrence Before Visceral Crisis
Despite significant improvements in care over the past few decades, approximately 30% of stage II-III breast cancer patients will go on to relapse and die from metastatic disease. 10-15% of those recurrences will present clinically with visceral crisis, which limits treatment options.7
Serial Signatera™ Residual Disease Testing after definitive treatment has been shown to detect relapse a median of 10.5 months (range 0-38 months) ahead of scans and traditional monitoring tools, helping to avoid visceral crisis.4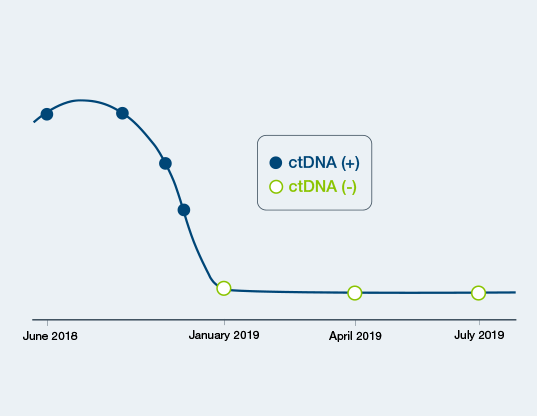 Inform Questions Across Breast Cancer Treatment

Explore the Peer-Reviewed Data in Breast Cancer
Support the Patient Journey
When Rachelle was diagnosed with stage IIB, HR+/HER2- breast cancer at age 29, she was a young entrepreneur determined not to let her diagnosis define her. After she finished definitive treatment, she and her doctor decided to use serial Signatera™ testing to monitor disease for signs of recurrence every three months.
Learn how Signatera™ helped Rachelle gain peace of mind and how she became a dedicated patient advocate along the way.
"The confidence of [getting tested with] Signatera allows me to live my best life every day." – Rachelle – entrepreneur, advocate, and breast cancer survivor
Partner to Advance Breast Cancer Treatment
| TRIAL | SPONSOR | DESCRIPTION |
| --- | --- | --- |
| ZEST | GSK | Efficacy and Safety Comparison of Niraparib to Placebo in Participants With Either Human Epidermal Growth Factor 2 Negative (HER2-) Breast Cancer Susceptibility Gene Mutation (BRCAmut) or Triple-Negative Breast Cancer (TNBC) With Molecular Disease (NCT04915755). Read about this study |
| DARE | Criterium, Inc. | DNA-Guided Second Line Adjuvant Therapy For High Residual Risk, Stage IIIII, Hormone Receptor Positive, HER2 Negative Breast Cancer (NCT04567420). Read about this study |
| LEADER | Massachusetts General Hospital | CDK 4/6 Inhibitor, Ribociclib, With Adjuvant Endocrine Therapy for ER-positive Breast Cancer (NCT03285412) Read about this study |
Is Signatera™ right for your breast cancer patients?
References
1Magbanua MJM, et al. Circulating tumor DNA in neoadjuvant-treated breast cancer reflects response and survival. Ann Oncol. 2021 Feb;32(2):229-239. https://doi.org/https://doi.org/10.1016/j.annonc.2020.11.007
2Magbanua MJM, et al. Personalized circulating tumor DNA as a predictive biomarker in high-risk early stage breast cancer treated with neoadjuvant chemotherapy with or without pembrolizumab. Cancer Res. 2021 81 (4_Supplement): PD9-02.
3Magbanua MJM, et al. Comparison of the predictive and prognostic significance of circulating tumor DNA in patients with high risk HER2- breast cancer receiving neoadjuvant chemotherapy. Poster presented at: AACR 2022; April 8-13, 2022; New Orleans, LA.
4Shaw JA, et al. Serial postoperative ctDNA monitoring for early detection of breast cancer recurrence. Poster presented at: ASCO; June 3-7, 2022; Chicago, IL.
5Bratman SV, et al. Personalized circulating tumor DNA analysis as a predictive biomarker in solid tumor patients treated with pembrolizumab. Nat Cancer. 2020;1(9):873-881. https://doi.org/10.1038/s43018-020-0096-5
6Coombes RC, et al. Personalized detection of circulating tumor DNA antedates breast cancer metastatic recurrence. Clin Cancer Res. 2019 Jul 15;25(14):4255-4263. https://doi.org/10.1158/1078-0432.CCR-18-3663
7Haslam A, et al. Estimation of the percentage of US patients with cancer who are eligible for immune checkpoint inhibitor drugs. JAMA Netw Open. 2020;3(3):e200423. https://doi.org/10.1001/jamanetworkopen.2020.0423