Covered by Medicare for muscle-invasive bladder cancer (MIBC)
Signatera™ monitors ctDNA for bladder cancer and can help:
risk-stratify patients with MIBC1 2

predict disease recurrence early, before traditional imaging methods 2

predict and monitor treatment response to inform clinical decisions3
Precision Care in Muscle-invasive Bladder Cancer

Predict who may benefit from adjuvant immunotherapy treatment1
42%
increase in disease-free survival for ctDNA-positive patients treated with atezolizumab11

Detect Recurrence Earlier
Identify molecular recurrence ahead of radiological relapse2
96 days
median lead time to clinical recurrence2

Monitor Treatment Response
Assess ctDNA dynamics serially to evaluate response to immunotherapy3
At start of Cycle 3
ctDNA dynamics compared to baseline can identify responders3
Assess risk and predict treatment benefit
After cystectomy, the Signatera™ Molecular Residual Disease Test (MRD) can help risk-stratify patients and identify who may benefit from adjuvant treatment.1
Retrospective analysis of IMvigor010 (Phase III, randomized clinical trial of atezolizumab vs observation in high risk adjuvant MIBC) demonstrated Signatera™ may be:
Predictive of benefit of post-cystectomy treatment with atezolizumab (overall survival hazard ratio OS HR=0.59)1
Prognostic of overall patient outcomes in observation arm (OS HR=8.00 with 95% CI: 4.92, 12.99 and P<0.001)1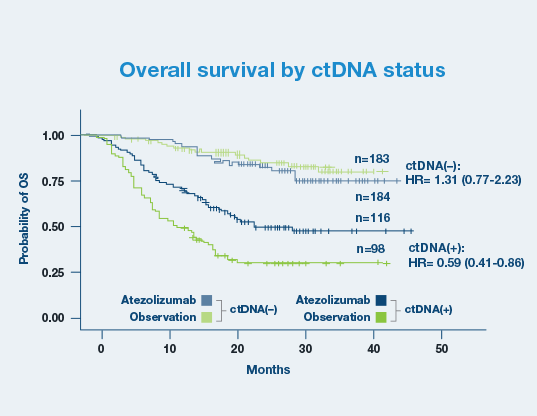 Get Actionable Insights Across the Bladder Cancer Care Journey

Explore the Peer-Reviewed Data

The Signatera™ MRD test is clinically validated across muscle invasive bladder cancer treatment settings.

Neoadjuvant Response Monitoring

Lack of ctDNA clearance during neoadjuvant treatment is shown to be a better predictor of recurrence than pathologic response.2
Learn About Advances in ctDNA-Guided Treatment for Urothelial Carcinoma
In this webinar, Dr. Thomas Powles shares the findings of the IMvigor010 data analysis and potential applications for ctDNA testing in bladder cancer. Dr. Powles will discuss the utility of Signatera™ MRD testing for:
Early detection of molecular relapse, potentially allowing clinicians to treat at lower levels of disease burden
Predicting treatment response as early as cycle 3 of immunotherapy
Future decision-making in the neoadjuvant setting
Discover the Published Data in Bladder Cancer
Is Signatera™ right for your bladder cancer patients?
References
1Powles T, et al. ctDNA guiding adjuvant immunotherapy in urothelial carcinoma. Nature. 2021;595(7867):432-437. https://doi.org/10.1038/s41586-021-03642-9
2Christensen E, et al. Early Detection of metastatic relapse and monitoring of therapeutic efficacy by ultra-deep sequencing of plasma cell-free DNA in patients with urothelial bladder carcinoma. J Clin Oncol. 2019;37(18):1547-1557. https://doi.org/10.1200/JCO.18.02052
3Bratman SV, et al. Personalized circulating tumor DNA analysis as a predictive biomarker in solid tumor patients treated with pembrolizumab. Nat Cancer. 2020;1(9):873-881. https://doi.org/10.1038/s43018-020-0096-5