Power Clinical Decisions in Gynecologic Cancer

ctDNA presence after surgery is associated with reduced recurrence-free survival
100%
clinical sensitivity and specificity1 during longitudinal testing for patients with stage I-IV epithelial ovarian cancer (EOC)*

Detect Recurrence Earlier
Signatera™ is a stronger predictor of recurrence than CA-125
10.5 months
average lead time over CT scans in patients with EOC, compared to 1 month for CA-1251

Monitor Treatment Response
Serial Signatera™ testing during immunotherapy can help assess therapy effectiveness
6 weeks
evaluate immune checkpoint inhibitor
response early for patients with
gynecologic cancers2**
Understand Immunotherapy Response Earlier
Inform clinical decisions by tracking ctDNA dynamics
The Signatera™ Residual Disease Test can be used to monitor immunotherapy response and identify treatment effectiveness as early as week 6 in ovarian, cervical, endometrial, and other cancers.2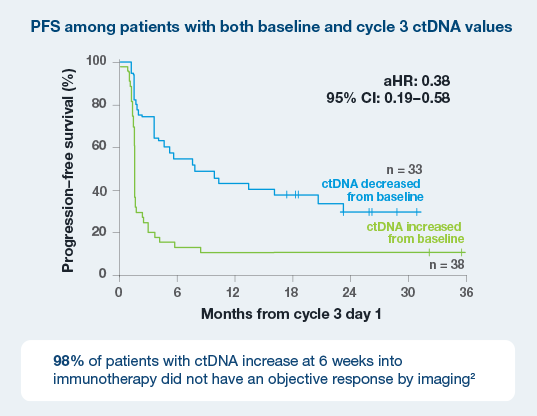 Actionable Molecular Insights Across the Patient Journey
Signatera™ enables early detection of molecular residual disease (MRD) to help you manage your patients with gynecologic cancers.

Discover the Data in Gynecologic Cancers

Signatera™ is clinically validated cross multiple indications.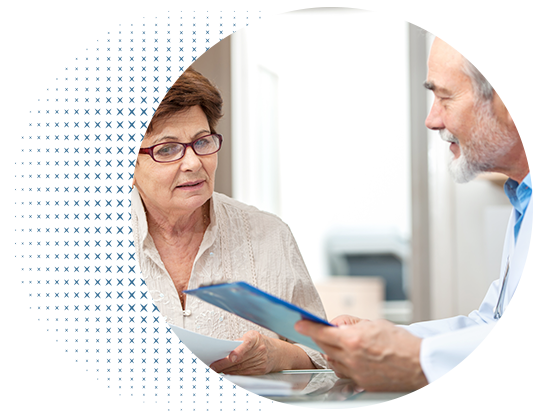 Monitor Your Patients With Confidence
As part of her ovarian cancer monitoring plan, Anne received Signatera™ testing and CA-125 at regular intervals.
A positive Signatera™ result alerted her oncologist to order a scan, which caught a recurrence early. Now, Anne is receiving Signatera™ to monitor response to her maintenance therapy. Since starting therapy, Anne's Signatera™ results have been negative, so she can feel more confident about her treatment plan.
Tailor Gynecologic Cancer Treatment With Natera's Portfolio of Genomic Tests
| | |
| --- | --- |
| Signatera™ | Highly sensitive and perosnalized tumor-informed test for molecular residual disease (MRD) detection |
| Altera™ | Comprehensive genomic profiling for clinically relevant somatic mutations/biomarkers with no additional sample (eg NTRK fusions, MSI, TMB, BRCA 1/2) |
| Empower™ | Germline genetic test for commonly screened genes in gynecologic cancers (eg BRCA 1/2, MMR genes) to inform therapeutic decisions. |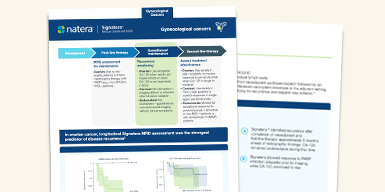 Signatera™ in Gynecologic Cancers
Read about the clinical utility of the Signatera™ test and data for MRD assessment, recurrence monitoring, and IO treatment response monitoring.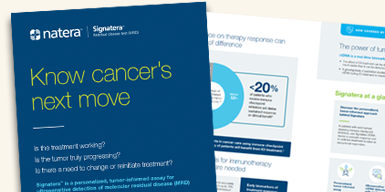 Learn how Signatera™ can assess immunotherapy response as early as 6 weeks into treatment for patients with ovarian, cervical, endometrial, and other cancers.2
Ready to try Signatera™ for your gynecologic cancer patients?
References
1Chapman J, et al. Circulating tumor DNA predicts disease recurrence in ovarian cancer patients. Poster presented at the American Association of Cancer Research annual meeting; April 10-15, 2021; Virtual Meeting. Abstract 552.
2Bratman SV, et al. Personalized circulating tumor DNA analysis as a predictive biomarker in solid tumor patients treated with pembrolizumab. Nat Cancer. 2020;1(9):873-881. https://doi.org/10.1038/s43018-020-0096-5
Footnotes
*Includes epithelial ovarian, fallopian tube, and peritoneal cancer. Median follow-up period of 15 months (n=25)
**Includes high grade serous ovarian cancer (n=18), endometrial cancer (n=2), and cervical cancer (n=1).