Why circulating tumor DNA (ctDNA) for MRD assessment?
Cancer cells release circulating tumor DNA (ctDNA) into the bloodstream
ctDNA is a powerful tool that can be measured to assess the absence or presence of molecular residual disease (MRD)
Dynamic real-time biomarker: the normal half-life is less than an hour
Clinical applications of ctDNA testing for MRD assessment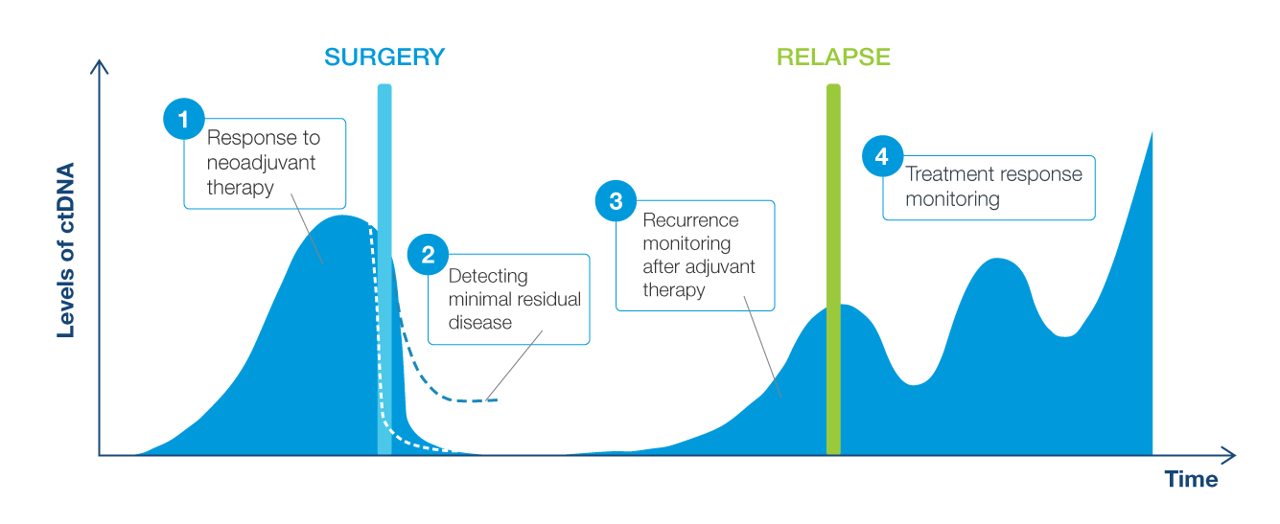 Now it is possible to detect cancer recurrence earlier than before
"Tumor-informed circulating tumor DNA tests have broad clinical utility across cancer types. I am excited to partner with Natera to further explore early indications of treatment response, or lack thereof, using this novel technology."

Georges Azzi, MD
Oncologist at Holy Cross Health, Ft. Lauderdale, FL
Signatera™ is the first tumor-specific assay for truly individualized cancer care
Personalized design for every patient
Custom-built assay—based on the unique mutation signature of each patient's tumor—identifies and tracks tumor mutations at the source
Once a personalized assay is designed, a patient's blood can be used to accurately monitor for the presence or absence of the disease over time
A positive Signatera™ result predicts relapse with overall positive predictive value more than 98%1-4
In clinical studies, Signatera showed high performance across multiple solid tumors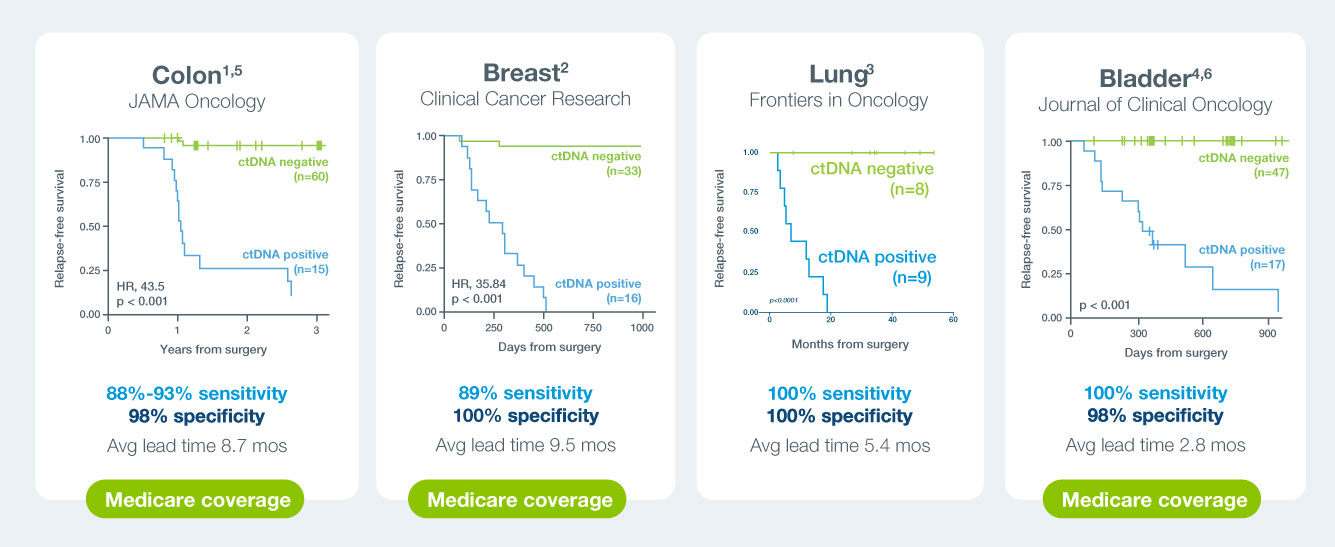 Signatera is widely validated
Detect residual disease early.
Treat with confidence.
MRD testing uniquely personalized to each patient's tumor mutation signature
Highly sensitive non-invasive assay to detect MRD earlier than other standard of care clinical tools.1‑4
Earlier cancer recurrence monitoring to help inform adjuvant treatment decisions.
Custom-built for each patient, using tumor tissue from surgical resection.
Highest level of monitoring accuracy when determining whether to augment or reduce therapy.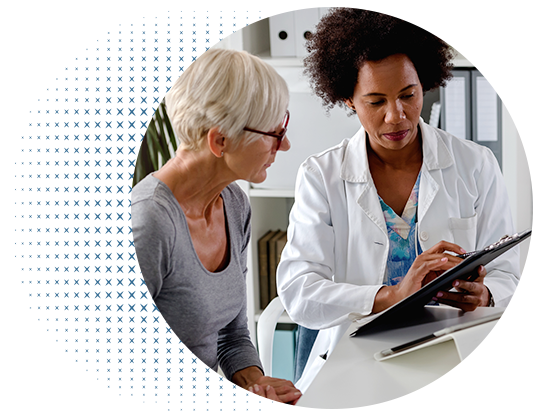 How Signatera™ Works: a personalized and tumor informed approach to MRD surveillance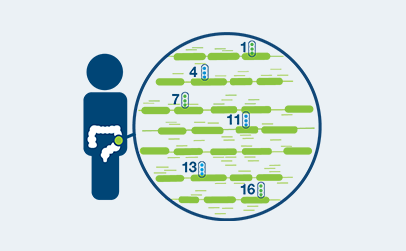 Personalized, tumor-informed assay
One-time, primary tissue sample and matched normal tissue is required for whole exome sequencing and personalized test design.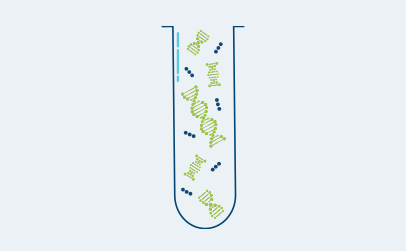 Ultrasensitive ctDNA detection
Signatera™ is designed to detect ctDNA of somatic and truncal variants to optimize sensitivity. Tumor-informed method enables filtering of CHIP mutations to decrease false positive rates.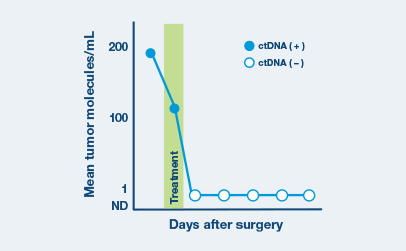 Optimized for longitudinal monitoring
Once the patient's personalized test has been designed, only a blood sample is needed each subsequent time.
To get started, send in your Signatera™ requisition form, sign in to the online portal or talk to your sales representative.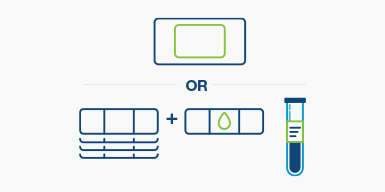 Send tumor block or slides to prepare the personalized tumor-informed assay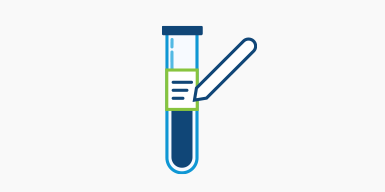 Complete information on tube labels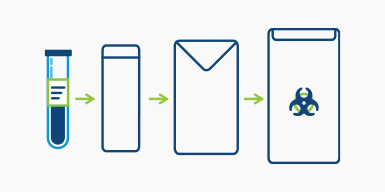 Place filled and labeled tubes into the absorbent sleeve and into the metallic envelope. Place the metallic envelope into the biohazard bag.
Natera accepts all commercial and public insurances (Medicare, Medicaid)
We are committed to make testing as affordable as possible
Medicare Coverage
For monitoring disease progression, recurrence, or relapse for colorectal cancer (CRC), stage IIb and higher breast cancer, and muscle invasive bladder cancer (MIBC), in both the adjuvant and surveillance settings.
Monitoring of response to immune-checkpoint inhibitor therapy for any solid tumor.
Commercial Insurance
We welcome all insurance plans.

We will work with patients so that cost is not a barrier for testing.

We offer an affordable self-pay rate for those patients who do not wish to use insurance.
Is Signatera™ right for you?
We're here to help you find out
References
1Reinert T, Henriksen TV, Christensen E, et al. Analysis of Plasma Cell-Free DNA by Ultradeep Sequencing in Patients With Stage I to III Colorectal Cancer. JAMA Oncology. 2019;5(8):1124-1131.
2Coombes C, Page K, Salari R, et al. Personalized Detection of Circulating Tumor DNA Antedates Breast Cancer Metastatic Recurrence. Clinical Cancer Research. 2019;25(14):4255-4263.
3Abbosh C, Birkbak N, Wilson GA, et al. Phylogenetic ctDNA analysis depicts early-stage lung cancer evolution. Nature. 2017,545:446–451
4Christensen E, Birkenkamp-Demtröder K, Sethi H, et al. Early Detection of Metastatic Relapse and Monitoring of Therapeutic Efficacy by Ultra-Deep Sequencing of Plasma Cell-Free DNA in Patients with Urothelial Bladder Carcinoma. 2019; 37(18):1547-1557.