Transforming the management of cancer with personalized testing
Signatera is a highly sensitive and personalized molecular residual disease assay (MRD) using circulating tumor DNA (ctDNA), custom designed for each patient to help identify relapse earlier than standard of care tools.
Molecular residual disease is different
Utilizing the Signatera test, early detection of MRD has become a powerful tool for improving cancer management outcomes.
MRD measures ctDNA, a type of cell-free DNA that can be detected and measured in the body's circulatory system.
Accurate identification of ctDNA in the body can be used to indicate that there are cancer cells present, even after treatment.
MRD detection with Signatera is different from traditional uses of ctDNA (therapy selection, asymptomatic cancer screening), because it uses a personalized genetic test, informed by the patient's own tumor mutation signature.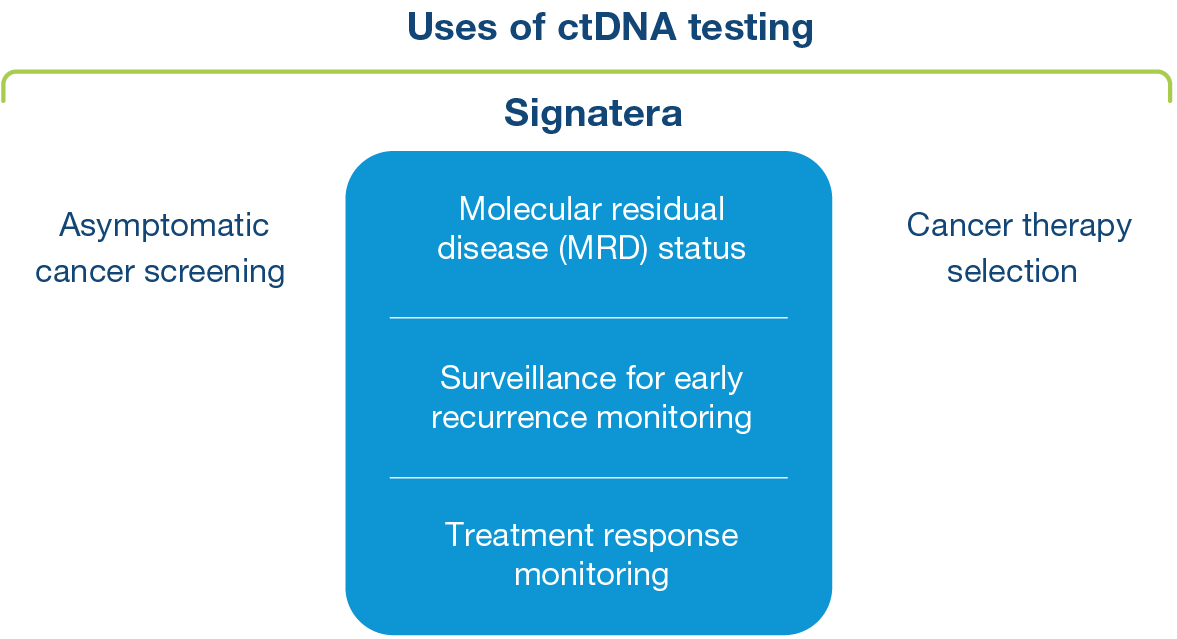 Now it is possible to detect cancer recurrence earlier than before
"Tumor-informed circulating tumor DNA tests have broad clinical utility across cancer types. I am excited to partner with Natera to further explore early indications of treatment response, or lack thereof, using this novel technology."

Georges Azzi, MD
Oncologist at Holy Cross Health, Ft. Lauderdale, FL
Signatera helps you dive deeper
Detect residual disease early. Treat with confidence.
Adjuvant setting
Use Signatera after surgery to evaluate the need for adjuvant chemotherapy
Personalize and help inform when to reduce treatment
Surveillance setting
Assess for MRD more accurately than current risk-assessment methods
Use Signatera alongside CEA to detect recurrence earlier while it may still be resectable, or to reduce false positive CEA results
Signatera is the first tumor-specific assay for truly individualized cancer care
Personalized design for every patient
Custom-built assay—based on the unique mutation signature of each patient's tumor—identifies and tracks tumor mutations at the source
Once a personalized assay is designed, a patient's blood can be used to accurately monitor for the presence or absence of the disease over time
A positive Signatera result, predicts relapse with overall positive predictive value more than 98%1-4
In clinical studies, Signatera showed high performance across multiple solid tumors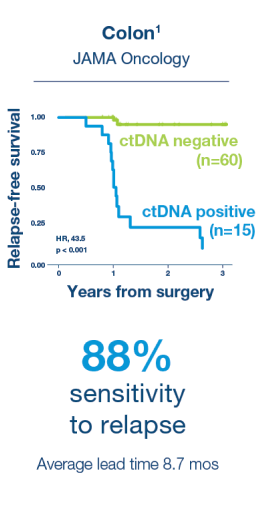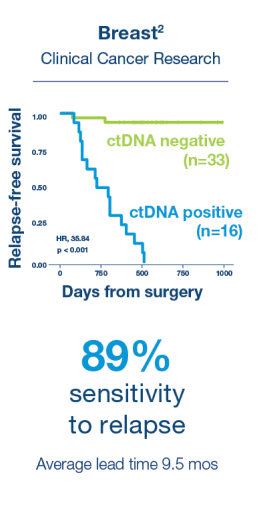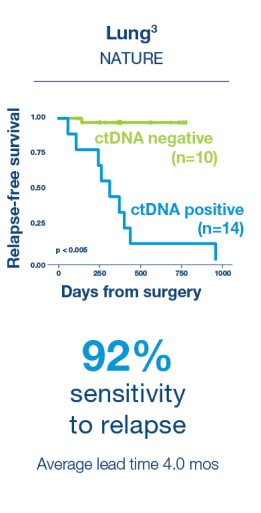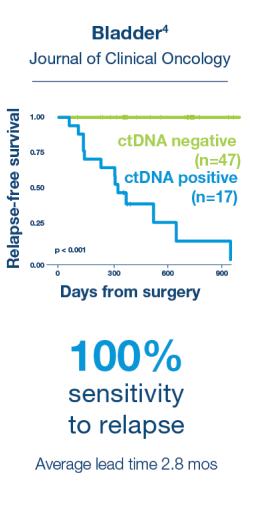 Is Signatera right for you?
We're here to help you find out
References
1Reinert T, Henriksen TV, Christensen E, et al. Analysis of Plasma Cell-Free DNA by Ultradeep Sequencing in Patients With Stage I to III Colorectal Cancer. JAMA Oncology. 2019;5(8):1124-1131.
2Coombes C, Page K, Salari R, et al. Personalized Detection of Circulating Tumor DNA Antedates Breast Cancer Metastatic Recurrence. Clinical Cancer Research. 2019;25(14):4255-4263.
3Abbosh C, Birkbak N, Wilson GA, et al. Phylogenetic ctDNA analysis depicts early-stage lung cancer evolution. Nature. 2017,545:446–451
4Christensen E, Birkenkamp-Demtröder K, Sethi H, et al. Early Detection of Metastatic Relapse and Monitoring of Therapeutic Efficacy by Ultra-Deep Sequencing of Plasma Cell-Free DNA in Patients with Urothelial Bladder Carcinoma. 2019; 37(18):1547-1557.