Want more precise post-transplant assessments?
A comprehensive view of your patient's rejection status: providers could improve their post-transplant rejection assessments by more than 50%.6 In a recently published clinical validation study, donor-derived cell-free DNA was more reliable than serum creatinine in identifying all types of rejection.1
What is the Prospera test?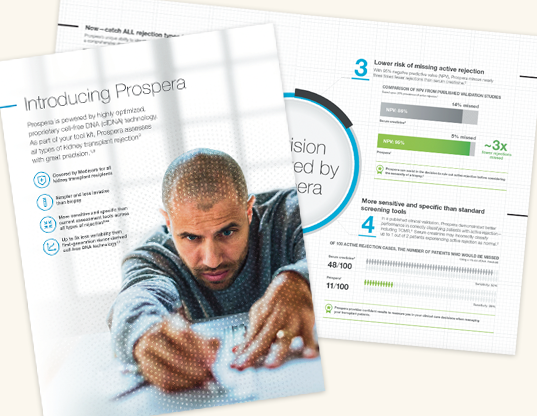 Prospera is a transplant rejection test that uses a simple blood draw to assess the risk of rejection of a transplanted kidney.
Through the use of advanced cell-free DNA technology, Prospera increases a provider's ability to identify otherwise undetected rejection that might lead to kidney loss. Catching transplant rejection as soon as possible can help providers develop a treatment plan to best protect the donated kidney.
Why choose Prospera for rejection assessment?
Built on our deep experience and legacy in cell-free DNA, Prospera is:
Refined workflow. Only from Natera
Natera has performed over three million cell-free DNA (cfDNA) tests across women's health and oncology. Harnessing this expertise, only Prospera uses one-of-a-kind, third-generation cfDNA technology to differentiate between self cfDNA and cfDNA from another source—such as a donated organ.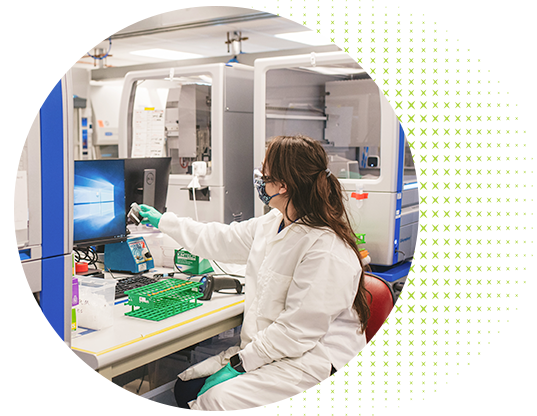 Hear what your colleagues are saying
Incorporating Prospera into your Workflow
Is Prospera right for you?
We're here to help you find out
References
1Sigdel TK et al. Optimizing detection of kidney transplant injury by assessment of donor-derived cell-free DNA via massively multiplex PCR. J Clin Med. 2019;8(1):19.
2Altuğ Y et al. Analytical validation of a single-nucleotide polymorphism-based donor-derived cell-free DNA assay for detecting rejection in kidney transplant patients. Transplantation, 2019.
3Bloom RD et al. Cell-free DNA and active rejection in kidney allografts. J Am Soc Nephrol. 2017;28(7):2221-2232. doi: 10.1681/ASN.2016091034.
4Grskovic M et al. Validation of a clinical-grade assay to measure donor-derived cell-free DNA in solid organ transplant recipients. J Mol Diagn. 2016;18(6):890-902.
5Huang E et al. Early clinical experience using donor-derived cell-free DNA to detect rejection in kidney transplant recipients. Am J Transplant. 2019; 19:1663-1670
6Peabody et al. Randomized clinical utility trial of a novel donor-derived cfDNA test to detect rejection in CPV-simulated renal post-transplant patients. International Urology and Nephrology. 2020; doi.org/10.1007/s11255-020-02491-1.