Altera Tumor Profiling: Now Available
Support treatment decisions with comprehensive tumor profiling
Gain deep insight into the tumor's genomic alterations and oncology biomarkers with Altera. The detailed sequencing report includes FDA-approved treatments, novel treatment approaches and ongoing clinical trials targeting found mutations. Unlike any other tumor profiling assay, Altera also enables molecular residual disease (MRD) monitoring with the Signatera assay.
Altera genomic profile report: Comprehensive patient insights in one place
Somatic profiling that includes: RNA sequencing (call fusions with established clinical reference, detect novel fusions), introns, promoters; reporting TMB, MSI, and genes related to HRD
FDA-approved treatments for patient-specific genomic targets, as well as novel approaches to detected targets when standard of care is exhausted
List of clinical trials recruiting for detected genomic targets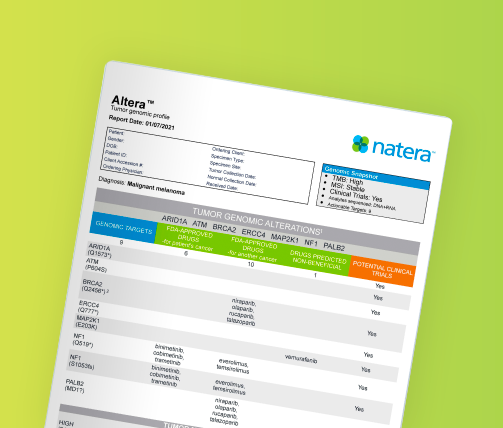 Altera can support your therapy selection
Altera's tumor genomic testing supports therapy selection by prioritizing potentially beneficial therapies based on a patient's tumor biomarkers and cancer type.
Altera tumor genomic profiling offers a whole exome and transcriptome-based approach for Comprehensive Genomic Profiling (CGP) with boosted >500X coverage for 440 medically important genes. As a result, Altera provides full details on known cancer driver genes as well as less common biomarkers.
One tumor sample – two tests
With one tumor sample, you can order Altera to guide therapy selection and Signatera to monitor treatment response and disease recurrence. Enjoy the benefits of:
Tissue preservation
One-stop-shop ordering for two tests
Enablement of long-term monitoring
Ordering and results through physician portal
Simpler logistics for patients
Truly personalized care for your oncology patients
Have patients on immunotherapy?
Learn how Signatera could improve patient outcomes by aiding timely switching of therapies and potentially avoiding over-treatment
Questions about Altera?
Submit your inquiries here.