Surveilling your new kidney with a more precise blood draw
More informed, better protection

You and your provider understand the importance of preserving the function of a newly transplanted kidney. Achieving this goal could mean avoiding both dialysis and returning to the transplant list.
Early, informed treatment of underlying disease and patient adherence to medications are essential to preserving kidney function.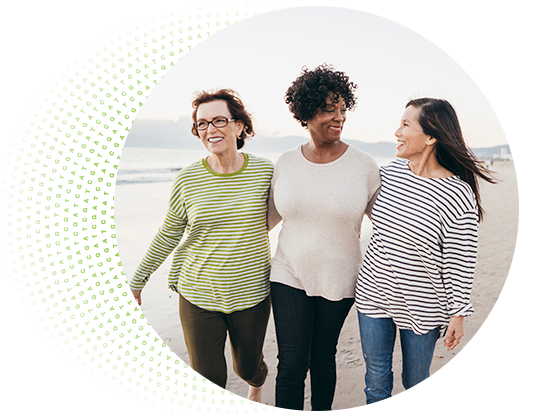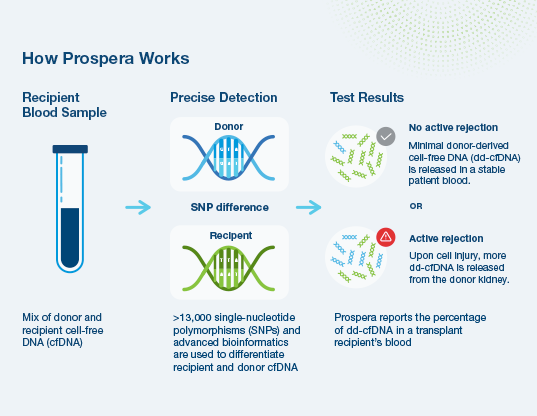 From a single blood draw, Prospera measures the amount of donor DNA from your transplanted kidney in your blood. This helps your care team assess all types of rejection more precisely than available standard assessment tools.1-4
What do the Prospera results mean to me?
The Prospera result represents the percent of cell-free DNA in your blood that originates from the donated kidney to determine whether or not you may be experiencing active rejection. It may also indicate other types of kidney injury you are experiencing.
Like your other regular monitoring tests, Prospera is recommended for periodic use over time as directed by your doctor.
A way to track your cell-free DNA over time
Establishing a baseline tells you and your care team the "normal state" of your new kidney. You can measure new results against this baseline.
Following your levels in the future reveals your new kidney's health
If a Prospera result is above 1%
This may mean that active rejection is occurring2. Terms used to describe the various types of active rejection include:
Antibody-mediated rejection
T cell-mediated rejection
Mixed rejection
To confirm a rejection or the type of rejection, you should consult your doctor.
If a Prospera result is in the normal range
This may mean that your kidney is stable2.
ProsperaLink Program: Your Support Team
We offer complete support through our Prospera Link Program:
Always by your side: Natera's care team will guide you through the process of using Prospera and check-in with you at every milestone
Flexible for your convenience: Our team coordinates blood draws around your schedule — at a certified laboratory near you or by a blood draw specialist who can come to you
Transparent & accessible: Our proactive billing outreach and flexible payment plans, including assistance for hardship, help ensure no significant financial hardship in accessing Prospera. Natera welcomes all insurances. Prospera is covered by Medical for assessing potential kidney transplant rejection.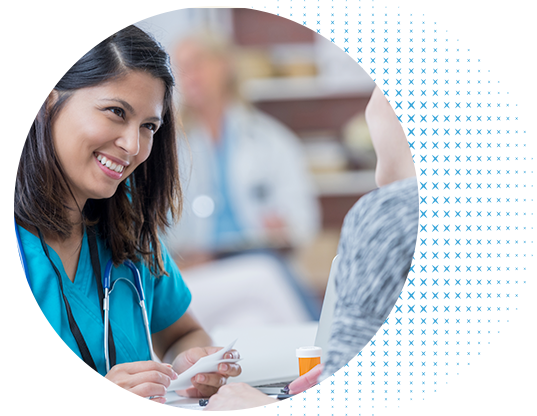 Sign up to find out if you're eligible for Prospera
References
1Altug Y et al. Analytical validation of a single-nucleotide polymorphism-based donor-derived cell-free DNA assay for detecting rejection in kidney transplant patients. Transplantation. 2019
2Sigdel TK et al. Optimizing detection of kidney transplant injury by assessment of donor-derived cell-free DNA via massively multiplex PCR. J Clin Med. 2019;8(1):19.
3Grskovic M et al. Validation of a clinical-grade assay to measure donor-derived cell-free DNA in solid organ transplant recipients. J Mol Diagn.2016;18(6):890-902.
4Bloom RD et al. Cell-free DNA and active rejection in kidney allografts. J Am Soc Nephrol. 2017;28(7):2221-2232. doi: 10.1681/ASN.2016091034.