Monitor Your Breast Cancer
The Signatera™ Residual Disease Test is a custom-built blood test for people who have been diagnosed with breast cancer or other solid tumors. Signatera™ can detect molecular residual disease (MRD) in the form of circulating tumor DNA—small fragments of DNA released by cancer cells.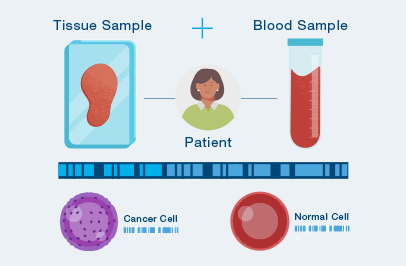 The first time your doctor orders Signatera™, a one time tissue sample and a blood sample are needed to build your unique test.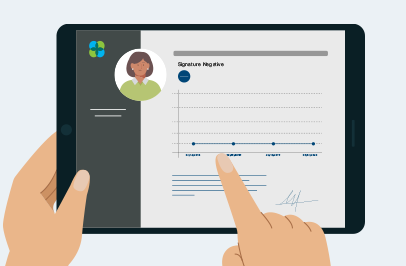 After your test is built, you will need to get your blood drawn each time your doctor orders Signatera™.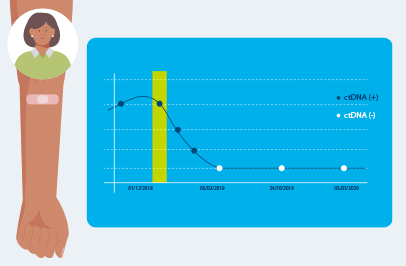 Repeated Signatera™ testing can show changes in your ctDNA levels, helping your doctor understand if your cancer is shrinking, growing, or coming back.
Inform Your Treatment Plan

If you or a loved one have been diagnosed with breast cancer, you likely have many questions. When used alongside other tests, Signatera™ can help guide your care by helping you and your doctor find answers.

Is there cancer left after treatment and/or surgery?

Signatera™ testing after initial treatment and/or surgery can help your doctor learn if residual traces of cancer remain in your body. This information can help you and your doctor understand your risk of breast cancer recurrence and plan your monitoring strategy.1-3
Stay In the Driver's Seat
When Rachelle was diagnosed with breast cancer at age 29, she was a young entrepreneur determined not to let her diagnosis define her. Her passion helped her maintain perspective as she and her doctor created a treatment plan.
Learn how Rachelle worked to integrate Signatera™ testing into her care plan and how she became a dedicated patient advocate along the way.
"The confidence of [getting tested with] Signatera™ allows me to live my best life every day." – Rachelle – entrepreneur, advocate, and breast cancer survivor.
Learn About Signatera in the Media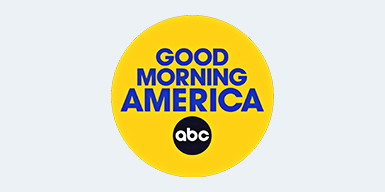 Mariel Leibowitz and her doctor share how Signatera™ helped them keep an eye out for triple negative breast cancer recurrence.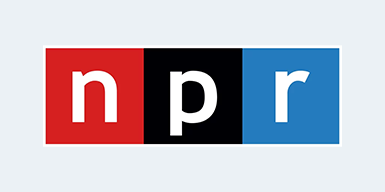 Bonnie shares how Signatera™ testing during and after bladder cancer treatment helped her "feel confident in enjoying life."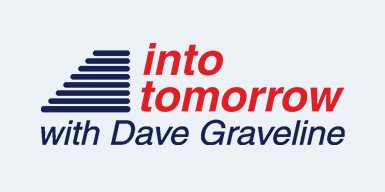 Into Tomorrow with Dave Graveline
Solomon Moshkevich of Natera discusses the potential of personalized ctDNA testing to change breast cancer care.
Access Personalized Testing
Access
Signatera is covered by Medicare for immunotherapy monitoring in breast cancer
We welcome all insurance plans. Please refer to our list of in-network plans that we participate with, or call your insurance provider.
We offer financial assistance programs for those who qualify.
More Information
Find answers to your questions about eligibility, results, ordering, and more
Don't see your question? Contact us here.
Is Signatera™ right for you?
References
1Magbanua MJM, et al. Circulating tumor DNA in neoadjuvant-treated breast cancer reflects response and survival. Ann Oncol. 2021 Feb;32(2):229-239. https://doi.org/https://doi.org/10.1016/j.annonc.2020.11.007
2Magbanua MJM, et al. Personalized circulating tumor DNA as a predictive biomarker in high-risk early stage breast cancer treated with neoadjuvant chemotherapy with or without pembrolizumab. Cancer Res. 2021 81 (4_Supplement): PD9-02.
3Magbanua MJM, et al. Comparison of the predictive and prognostic significance of circulating tumor DNA in patients with high risk HER2- breast cancer receiving neoadjuvant chemotherapy. Poster presented at: AACR 2022; April 8-13, 2022; New Orleans, LA.
4Shaw JA, et al. Serial postoperative ctDNA monitoring for early detection of breast cancer recurrence. Poster presented at: ASCO; June 3-7, 2022; Chicago, IL.
5Bratman SV, et al. Personalized circulating tumor DNA analysis as a predictive biomarker in solid tumor patients treated with pembrolizumab. Nat Cancer. 2020;1(9):873-881. https://doi.org/10.1038/s43018-020-0096-5