Monitor Your Breast Cancer
The Signatera™ Residual Disease Test is a custom-built blood test for people who have been diagnosed with breast cancer or other solid tumors. Signatera™ can detect molecular residual disease (MRD) in the form of circulating tumor DNA—small fragments of DNA released by cancer cells.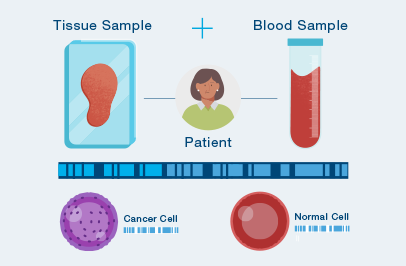 The first time your doctor orders Signatera™, a one time tissue sample and a blood sample are needed to build your unique test.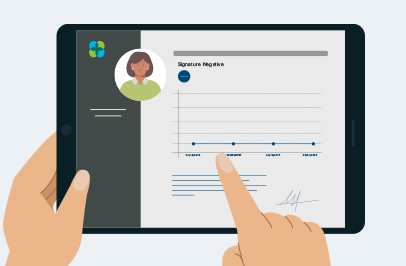 After your test is built, you will need to get your blood drawn each time your doctor orders Signatera™.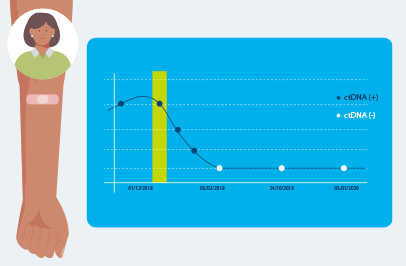 Repeated Signatera™ testing can show changes in your ctDNA levels, helping your doctor understand if your cancer is shrinking, growing, or coming back.
Inform Your Treatment Plan

If you or a loved one have been diagnosed with breast cancer, you likely have many questions. When used alongside other tests, Signatera™ can help guide your care by helping you and your doctor find answers.

Signatera™ testing after surgery and/or initial treatment can help your doctor learn if residual traces of cancer remain in your body. This information can help you and your doctor understand your risk of recurrence, decide on what treatment to recommend, and plan your monitoring strategy.1-4
Signatera™ is covered by Medicare for stage IIb and higher breast cancer patients
Providing Answers Throughout the Patient Journey
Like many patients, Angela has faced many questions throughout her journey with high risk breast cancer – what's the next step in my treatment? Is the cancer ever going to come back? What's causing this symptom?
Listen to the story of how she asked her doctor about Signatera™ to help monitor for recurrence and treatment response, giving her the peace of mind to move on with her life.
Learn More About Signatera™
Access Personalized Testing
Access
Signatera™ is covered by Medicare for immunotherapy treatment response monitoring and stage IIb and higher breast cancer monitoring
We welcome all insurance plans. Please refer to our list of in-network plans that we participate with, or call your insurance provider.
We offer financial assistance programs for those who qualify.
More Information
Find answers to your questions about eligibility, results, ordering, and more
Don't see your question? Contact us here.
Check Out Additional Resources From Some of Our Advocacy Partners
Is Signatera™ right for you?
References
1Coombes RC, et al. Clin Cancer Res. 2019 Jul 15;25(14):4255-4263.
2Magbanua MJM, et al. Ann Oncol. 2021; 32(2):229-239.
3Magbanua MJM, et al. Comparison of the predictive and prognostic significance of circulating tumor DNA in patients with high risk HER2-negative breast cancer receiving neoadjuvant chemotherapy. AACR; April 8-13, 2022.
4Cutts R, et al. Detection of ctDNA following surgery predicts relapse in breast cancer patients receiving primary surgery. SABCS; December 7-11, 2021.
5Shaw JA, et al. Serial postoperative ctDNA monitoring for early detection of breast cancer recurrence. ASCO; June 3-7, 2022.
6Bratman SV, et al. Nature Cancer. 2020;1(9):873-881.