Inform Early Treatment Decisions

Identify High Risk Patients
Test for presence of MRD after surgery to risk-stratify patients1
>10x
Higher risk of recurrence for ctDNA positive patients1

Detect Recurrence Earlier
Detect recurrence prior to standard imaging1
3 months
lead time in detecting recurrence compared to PET/CT1

Predict Response to Treatment
Track changes in ctDNA levels to evaluate treatment response1
6 weeks
To identify patients with poor prognosis due to increasing ctDNA during 1L IO treatment1
Inform Your Skin Cancer Treatment Approach With Signatera™

Explore Signatera™ data in Skin Cancer
Adjuvant / Surveillance
Use Signatera™ to inform risk-based adjuvant treatment selection and monitor immunotherapy response
Signatera™ ctDNA-positive patients had a 10x higher risk of recurrence than ctDNA-negative patients1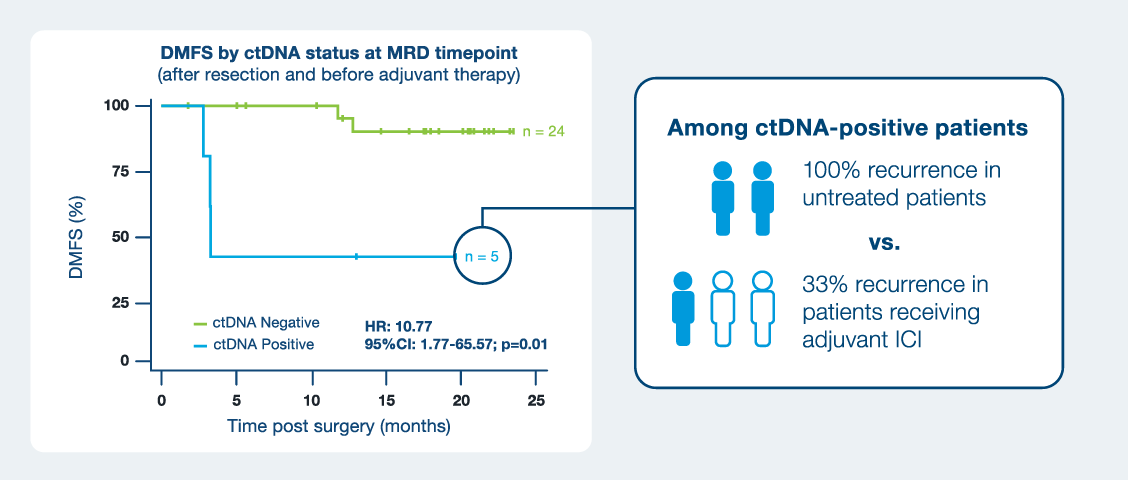 ctDNA-positivity was associated with significantly shorter DMFS (HR=10.77; p=0.01)
Outcomes were improved in ctDNA-positive patients who were treated with adjuvant ICI.
ctDNA-positivity at week 6 of adjuvant ICI therapy was significantly associated with an inferior DMFS (HR:34.54,P<0.0001)
On-treatment ctDNA dynamics were significantly associated with DMFS1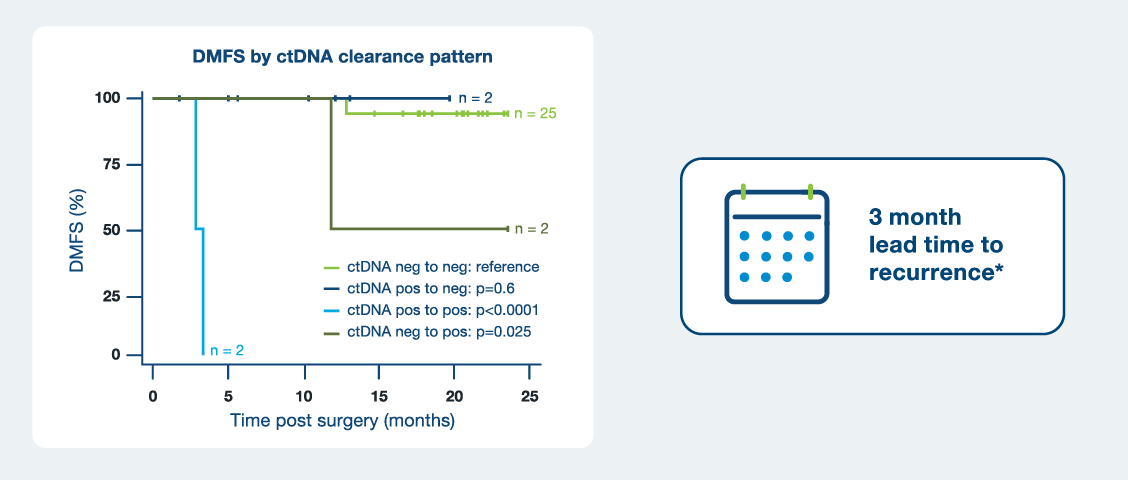 Patients who became or remained ctDNA negative experienced superior outcomes than patients who converted to or were persistently ctDNA positive
Signatera™ provided a lead time to recurrence of 3 months vs. standard imaging
* Average time to recurrence by PET/CT: ~9 months vs. average time to recurrence by ctDNA: ~6 months
DMFS = Distant metastasis-free survival; ICI = immune checkpoint inhibitor; MRD =
Molecular residual disease; ctDNA = Circulating tumor DNA
Metastatic
Use Signatera™ ctDNA dynamics to inform earlier treatment decisions in metastatic melanoma patients
Early on-treatment ctDNA dynamics were predictive of PFS in metastatic melanoma patients receiving 1st line ICI treatment1
At week 6, Signatera™ identified that patients with increasing ctDNA had a 18x higher risk of progression than ctDNA-negative patients

Patients with any increase in ctDNA levels from baseline by week 6 of 1st Line ICI treatment (monotherapy and combination ICIs) had a significantly shorter PFS (HR: 18; p=0.013).
Signatera™ was able to help distinguish between true vs pseudo-progression
Provide Confidence for Patients With Skin Cancer
After Jeffrey started dual immunotherapy for his metastatic melanoma, Signatera™ showed a dramatic drop in his ctDNA levels and helped provide assurance that his treatment was working.
Watch Jeffrey's story to learn how his oncology team used Signatera™ to help guide his care and restore his confidence in his future.
Learn More About Signatera in Skin Cancers
Is Signatera™ right for your patients with skin cancer?
References
1Eroglu Z, Krinshpun S, Kalashnikova E, et al. Circulating tumor DNA based molecular residual disease detection for treatment monitoring in advanced melanoma patients. Cancer (2023). https://doi.org/10.1002/cncr.34716