Detect and Monitor ctDNA in NSCLC to Inform Treatment Strategy

Identify High Risk Patients
Test for presence of MRD after definitive therapy to assess prognosis1-2
53x
Higher risk of recurrence
for ctDNA positive patients1

Detect Recurrence Earlier
Detect recurrence before
radiographic imaging1-2
5-6 months
Median lead time over
radiographic recurrence1-2

Monitor Immunotherapy
Treatment Response
Track early changes in ctDNA levels to predict outcomes3
96% lower
Risk of death for patients who cleared their ctDNA by week 9 compared to patients with increasing ctDNA3
Evaluate Response to ICI Treatment in NSCLC
ICI (immune checkpoint inhibitors) are FDA-approved with guideline recommendations across all treatment settings in lung cancer (neoadjuvant, adjuvant, locally advanced, metastatic).4
Signatera™ was evaluated in the EMPower Lung-1 trial, a prospective study in patients with advanced or metastatic NSCLC randomized to ICI vs chemotherapy for 1L treatment3
Rising ctDNA by week 3 or lack of ctDNA clearance by week 9 identified patients experiencing inferior clinical outcomes
ctDNA deep decrease (>90%) and clearance were associated with significantly improved OS
Composite ctDNA & RECIST assessment may improve prediction of OS benefit from IO
Inform Your Lung Cancer Treatment Approach With Signatera™
Monitoring circulating tumor DNA (ctDNA) with Signatera™ across the treatment journey can answer important clinical questions and inform treatment decisions.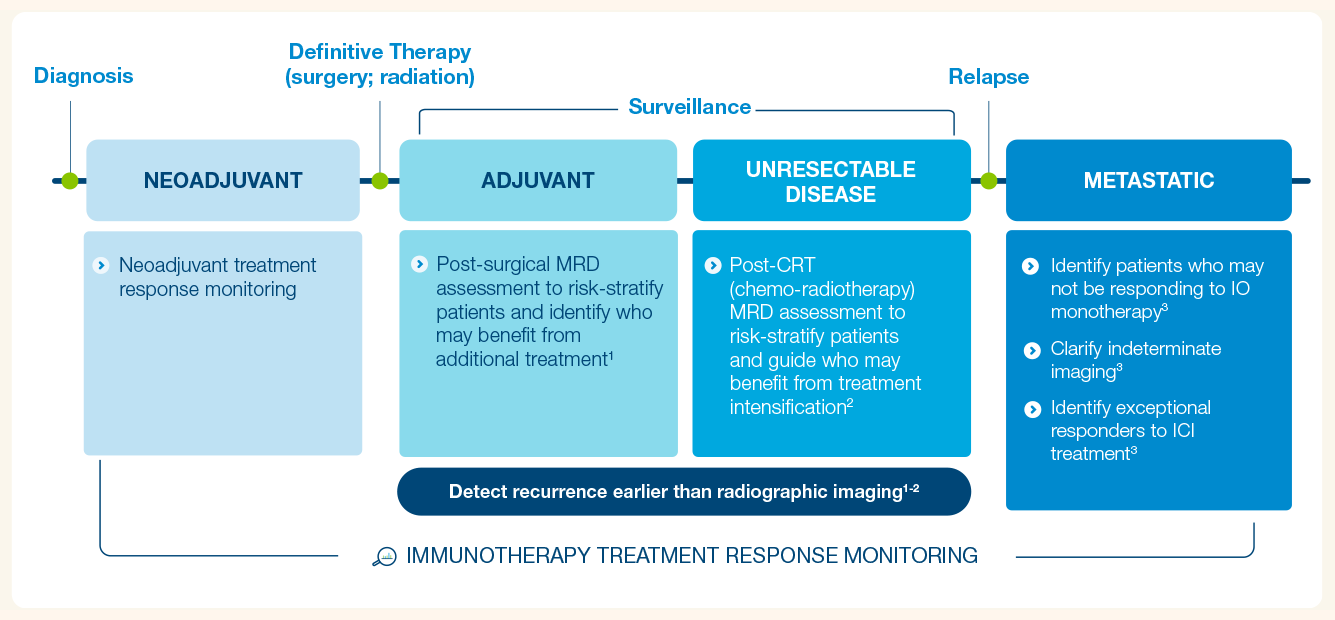 Discover the Data in Lung Cancer

Immunotherapy Response Monitoring

Rising ctDNA by week 3 or lack of ctDNA clearance by week 9 identified patients experiencing inferior clinical outcomes
Composite ctDNA & RECIST assessment may improve prediction of OS benefit from IO3

View Poster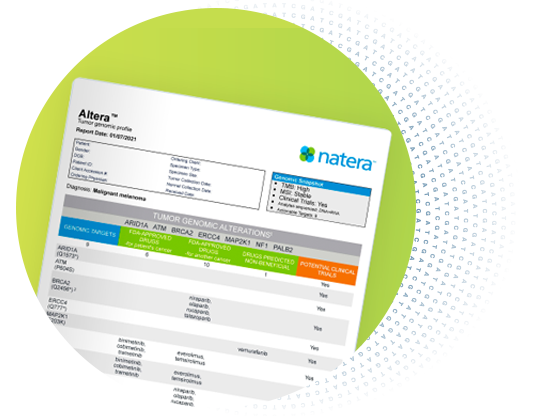 One tumor sample – two tests
Add the
Altera™
tumor genomic profiling test when you order Signatera™ to get clinically relevant biomarkers (eg EGFR, KRAS, ALK, ROS1, MSI, TMB) and MRD monitoring with no additional sample.
Reassure Your Patients Living With Lung Cancer
After JoAnn was diagnosed with lung cancer, Signatera™ detected a rise in her ctDNA levels, alerting her oncologist to a progression that was not scannable.
Watch JoAnn's story to learn how she and her oncologist added Signatera™ testing to their toolbelt to help closely monitor her cancer.
"I want to know. The more you know, the better off you are." – JoAnn, living with lung cancer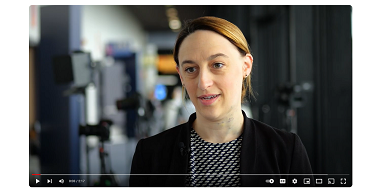 The benefits of using ctDNA over traditional scans to assess responses to ICI
Dr. Natalie Vokes shares thoughts on how ctDNA can be used in addition to scans in NSCLC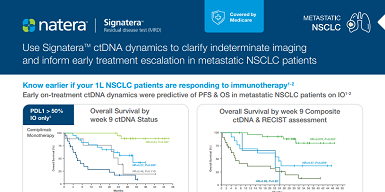 Learn about Signatera™ for risk-stratification, surveillance, and immunotherapy response monitoring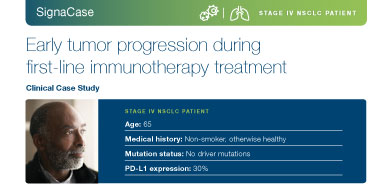 Read how Signatera™ detected a rise in ctDNA levels during immunotherapy, informing the decision to pivot to a combination therapy approach.
Ready to try Signatera™ for your lung cancer patients?