Know earlier if ICI treatment is working
During treatment with immune-checkpoint inhibitors (ICI) for advanced or metastatic cancers, you want answers to critical questions as soon as possible. Is treatment working? Is the tumor truly progressing? Should you change or restart treatment? Signatera is a personalized tumor-informed assay for ultrasensitive detection of molecular residual disease (MRD) that helps you find answers to these questions earlier than traditional tests and imaging.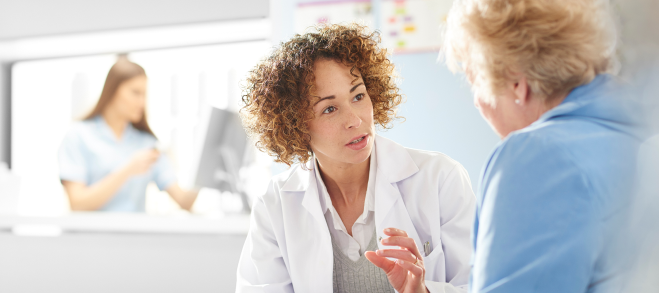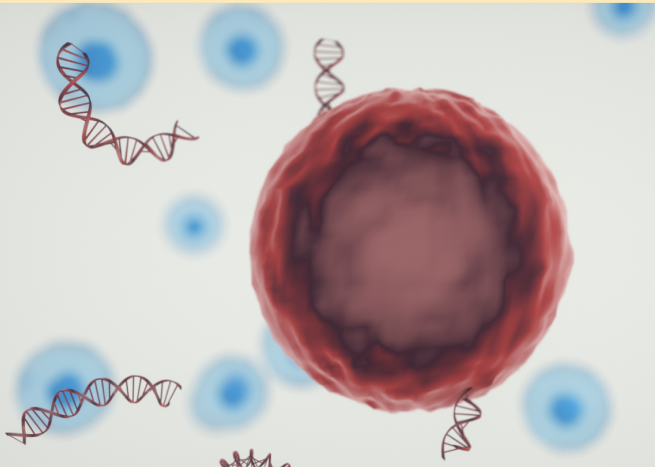 The challenges of ICI treatment.
The power of ctDNA.
Despite dramatic improvements in metastatic cancer care using antibodies that block the immune checkpoint proteins CTLA-4, PD-1, or PD-L1, the reality is ICI-based treatments don't work for everyone:
About 43.5% of cancer patients are eligible for ICI treatment.1,2
Less than 20% of eligible patients will derive sustained response or clinical benefit to ICIs.1,2
Checking and evaluating response at key intervals of a patient's ICI treatment is critical to informing decision-making and paving the way for stronger outcomes.
Blood-based circulating tumor DNA (ctDNA) is a powerful real-time biomarker that enables earlier and more sensitive detection of treatment response to immune checkpoint inhibitors than CT scans or other serum protein biomarkers.
INSPIRE Trial: Validating ctDNA as an early biomarker of ICI treatment response
Signatera was evaluated in the INSPIRE trial, a randomized, prospective study in patients with advanced or metastatic solid malignancies receiving pembrolizumab treatment.3
98% of patients had detectable ctDNA detected at baseline
An increase in ctDNA levels from baseline at week 6 strongly predicted disease progression and non-response to pembrolizumab
Achieving ctDNA clearance at any time during treatment correlated with durable OS
Combined with imaging tools, Signatera ctDNA analysis provides several clinical benefits:
Assess therapeutic benefit of ICIs in real-time
Rule-out pseudo-progression early
Assists in interpretations of ambiguous imaging results
Increase confidence in decisions to continue, switch, or reinitiate ICI
Improve the management of patients with durable, radiographically stable disease
Overall survival was 100% in patients who experienced ctDNA clearance for at least one on-treatment time point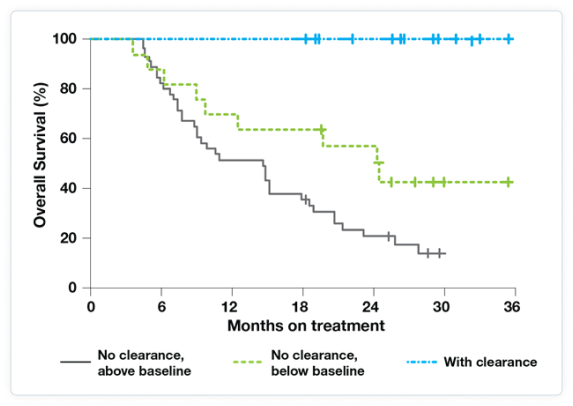 Signatera can be used alongside imaging tests to better assess response to immunotherapy and help determine whether the tumor is progressing or not.
Each Signatera test is personalized and tumor-informed. Whole-exome sequencing of the tumor-tissue allows a bespoke Signatera assay to be created, which detects ctDNA from only clonal mutations. Tracking ctDNA unique to the patient's clonal mutation signature is key to enabling a highly sensitive and specific test with a low limit of detection, down to 0.01% VAF.4 5 6 7
Personalized, tumor-informed assay
Tumor-specific, clonal mutations identified by whole-exome sequencing of patient's tumor tissue to eliminate germline and CHIP mutations
Ultrasensitive ctDNA detection with multiplex PCR technology
Highly sensitive and specific with a low limit of detection
Optimized for longitudinal monitoring
Only measures clonal mutations, which correlates with tumor burden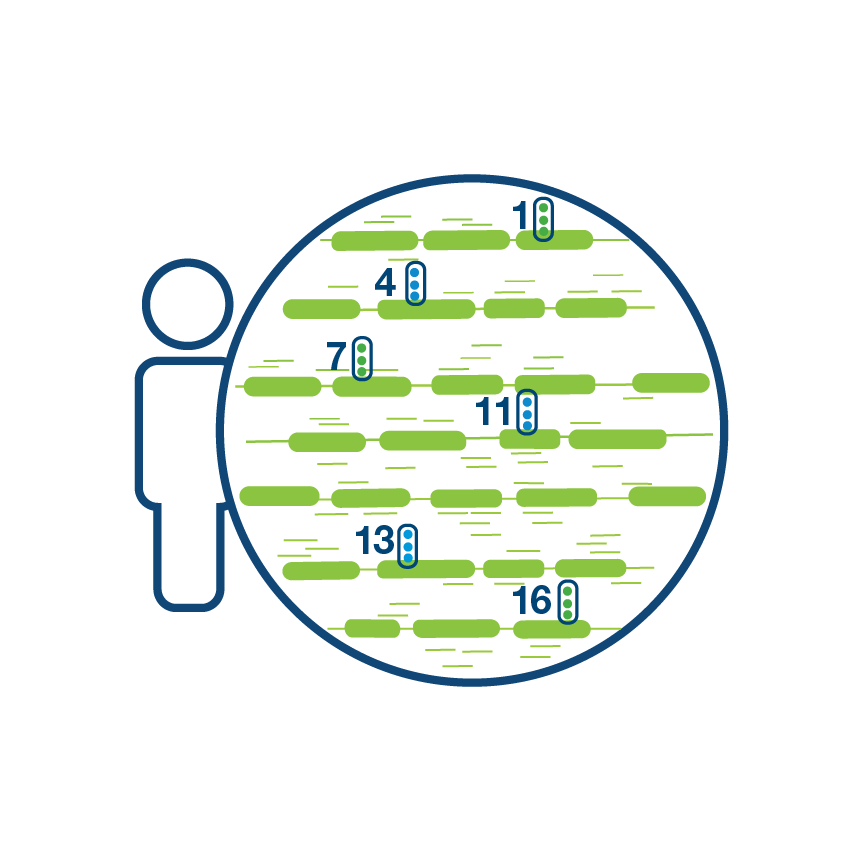 Personalized, tumor-informed assay
One-time, primary tissue sample and matched normal tissue is required for whole exome sequencing and personalized test design.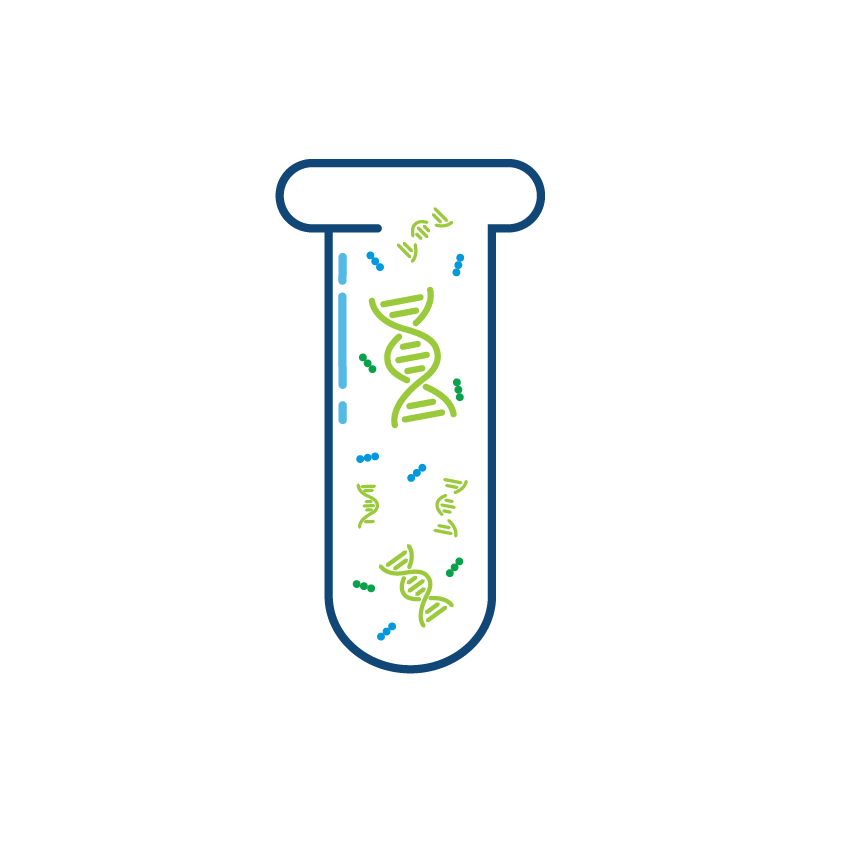 Ultrasensitive ctDNA detection
Signatera is designed to detect ctDNA of somatic and truncal variants to optimize sensitivity. Tumor-informed method enables filtering of CHIP mutations to decrease false positive rates.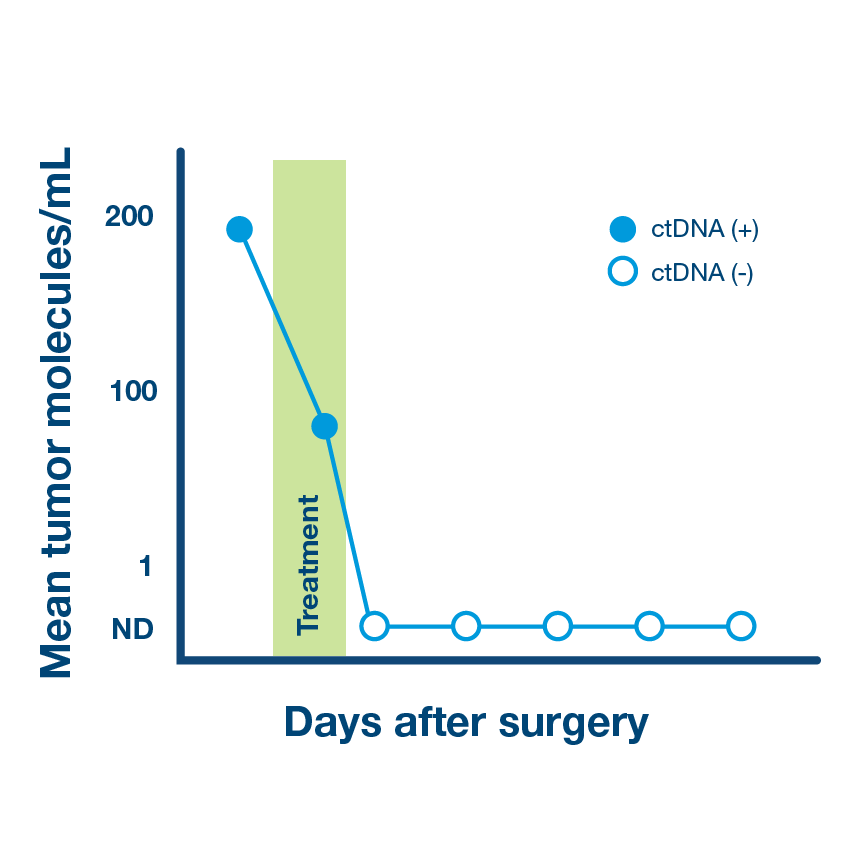 Optimized for longitudinal monitoring
Once the patient's personalized test has been designed, only a blood sample is needed each subsequent time Signatera is ordered.
How to use Signatera in your practice
| | | | |
| --- | --- | --- | --- |
| Is the treatment working? | Read more about a stage IV non-small cell lung cancer (NSCLC) patient who experienced early tumor progression during first-line immunotherapy treatment | | Download |
| Is the tumor truly progressing? | Read more about a stage IV melanoma patient with an indeterminate imaging result during immunotherapy treatment | | Download |
| Is there a need to change or reinitiate treatment? | Read more about a stage IV non-small cell lung cancer (NSCLC) patient who was able to discontinue immunotherapy treatment after a prolonged, durable, complete response | | Download |

BESPOKE study of ctDNA guided immunotherapy (IO)
The BESPOKE IO clinical study will collect data and blood samples from patients with advanced or metastatic solid tumors who will receive standard of care ICIs. The study will determine the impacts on treatment decisions and early detection of disease progression when Signatera testing is integrated as part of routine assessment of tumor response.
Natera and its collaborators will collect clinical utility and outcome data for two years from patients enrolled in the BESPOKE IO study. This data will help us better understand how Signatera ctDNA test results correlate to responses to ICIs and how Signatera can help physicians and patients in treatment planning.
Learn more about immunotherapy monitoring
Questions about Signatera? Submit your inquiries below.