Leverage End-to-End Expertise and Insights
Natera Oncology integrates the power of Signatera™ ctDNA and real world data (RWD) to help inform drug development.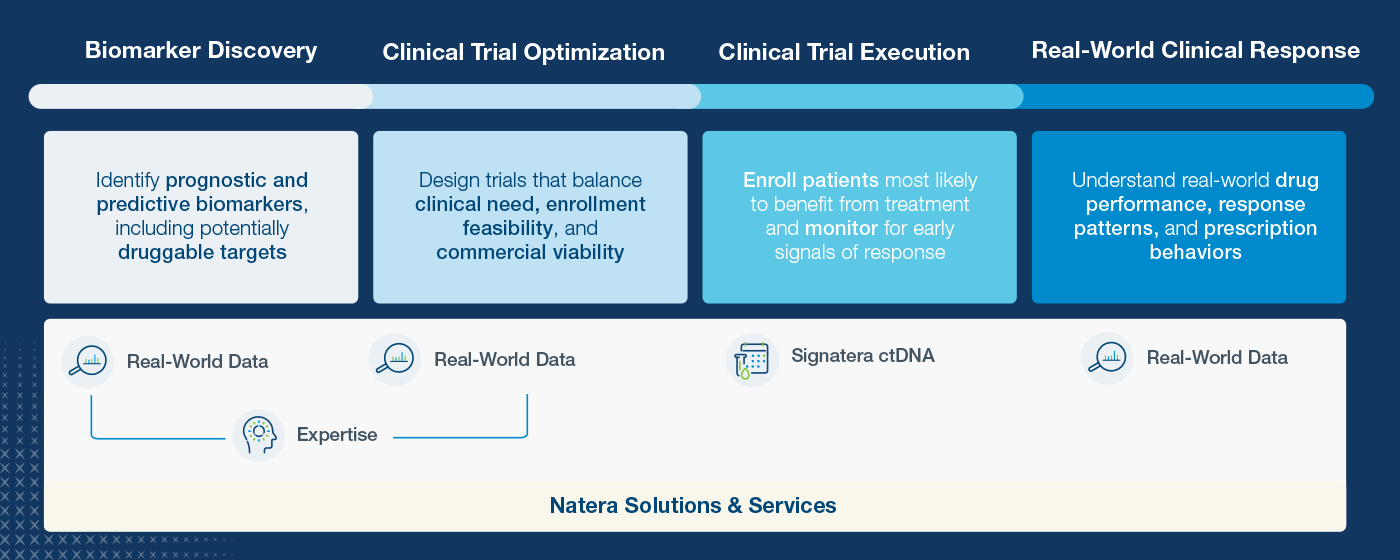 Drive Decisions with Real-World Data (RWD)
Watch this webinar to learn how our partners can harness insights from:
Tumor-normal whole exome sequencing data matched to clinically complete records across 50+ cancer histologies
A comprehensive clinico-genomic datasets in early stage cancer
An extensive treatment response monitoring dataset in late stage cancer (particularly in IO)
How can Signatera™ support your clinical trials?
Contact us to learn more
References
1 Powles T, et al. ctDNA guiding adjuvant immunotherapy in urothelial carcinoma. Nature. 2021;595:432-437. https://doi.org/10.1038/s41586-021-03642-9
2Oki E, Shirasu H, Watanabe J, et al. Dynamics of circulating tumor DNA after resection of colorectal cancer: Galaxy study in Circulate-Japan. Oral presentation presented at SSO, Dallas, Texas, March 9-12, 2022
3 Bratman SV, et al. Personalized circulating tumor DNA analysis as a predictive biomarker in solid tumor patients treated with pembrolizumab. Nat Cancer. 2020.1:873-881. https://doi.org/10.1038/s43018-020-0096-5
4Magbanua MJM, et al. Circulating tumor DNA in neoadjuvant treated breast cancer reflects response and survival. Ann Oncol. 2021;32(2):229-239. https://doi.org/10.1016/j.annonc.2020.11.007
5Shoushtari, A, Collins, L, Arranz, E, et al. Early reduction in ctDNA regardless of best RECIST response, is associated with overall survival (OS) on tebentafusp in previously treated metastatic uveal melanoma (mUM) patients. Oral Presentation presented at ESMO GI; Sep 16-21, 2021. Abstract ID: 3600.
6 Christensen E, Birkenkamp-Demtroder K, Sethi H, et al. Early Detection of Metastatic Relapse and Monitoring of Therapeutic Efficacy by Ultra-Deep Sequencing of Plasma Cell-Free DNA in Patients With Urothelial Bladder Carcinoma. J Clin Oncol. 2019;37(18):1547-1557.