Accelerate drug development in earlier treatment settings
Natera Oncology Real-World Data (RWD) Solutions is a comprehensive, multimodal clinicogenomics data platform that enables drug developers to:
Identify higher risk populations for earlier intervention

Assess treatment response and disease progression quantitatively
A multi-modal and longitudinal database

Example: Mapping the patient journey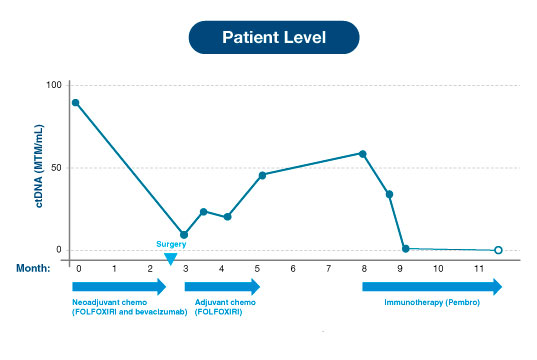 Figure 1: ctDNA kinetics in a patient with POLE-mutant colorectal cancer9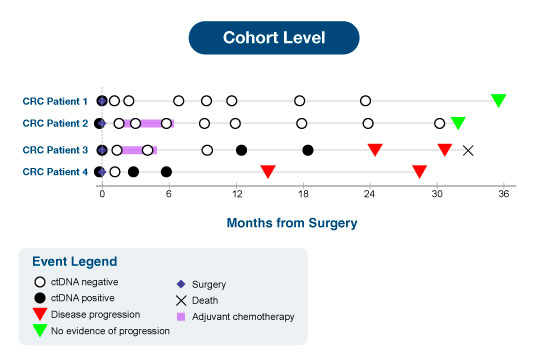 Figure 2: Example patient overview plot depicting treatment regimens, longitudinal ctDNA analysis, and imaging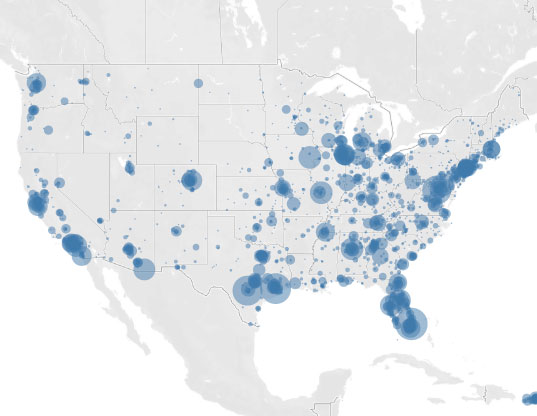 Broad representation across tumor types & stages
Rapid growth driven by Medicare and commercial reimbursement across:
Colorectal cancer
Breast cancer
Bladder cancer
Immunotherapy monitoring
Diverse representation across early and late stage cancers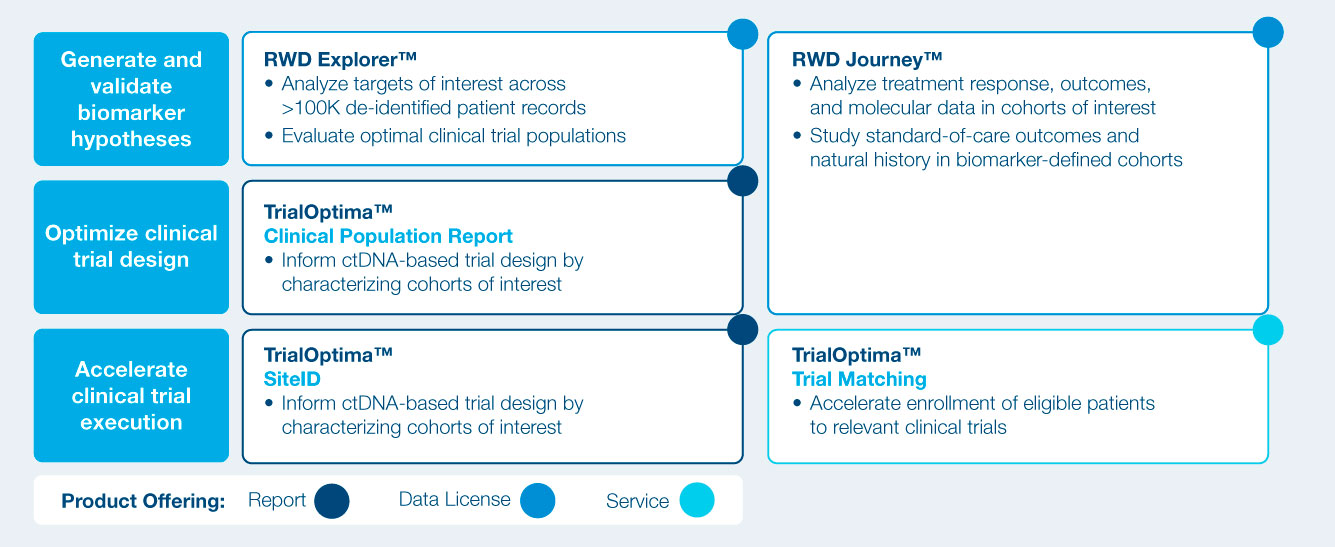 How can Signatera™ support your clinical trials?
Contact us to learn more
References
1Kotani D, et al. Molecular residual disease and efficacy of adjuvant chemotherapy in patients with colorectal cancer. Nature Medicine. 2023
2Powles T, Assaf ZA, Davarpanah N, et al. ctDNA guiding adjuvant immunotherapy in urothelial carcinoma. Nature. 2021
3Coombes C, Page K, Salari R, et al. Personalized Detection of Circulating Tumor DNA Antedates Breast Cancer Metastatic Recurrence. Clinical Cancer Research. 2019
4Magbanua MJM, Swigart LB, Wu H-T, et al. Circulating tumor DNA in neoadjuvant treated breast cancer reflects response and survival. Annals of Oncology. 2021
5Abbosh C, Birkbak N, Wilson GA, et al. Phylogenetic ctDNA analysis depicts early-stage lung cancer evolution. Nature. 2017
6Oki E, Kotani D, Nakamura Y, et al. Circulating tumor DNA dynamics as an early predictor of recurrence in patients with radically resected colorectal cancer: Updated results from GALAXY study in the CIRCULATE-Japan. ASCO, Chicago, IL. June 2-6, 2023.
7Bratman SV, et al. Personalized circulating tumor DNA analysis as a predictive biomarker in solid tumor patients treated with pembrolizumab. Nature Cancer. 2020.
8Magbanua MJM, Swigart LB, Ahmed Z, et al. Clinical significance and biology of circulating tumor DNA in high-risk early-stage HER2-negative breast cancer receiving neoadjuvant chemotherapy. Cancer Cell. 2023;41(6):1091-1102.
9Lutfi A, Afghan MK, Kasi PM (August 12, 2023) Circulating Tumor DNA Response and Minimal Residual Disease Assessment in DNA Polymerase Epsilon-Mutated Colorectal Cancer Undergoing Immunotherapy. Cureus 15(8): e43391. doi:10.7759/cureus.43391