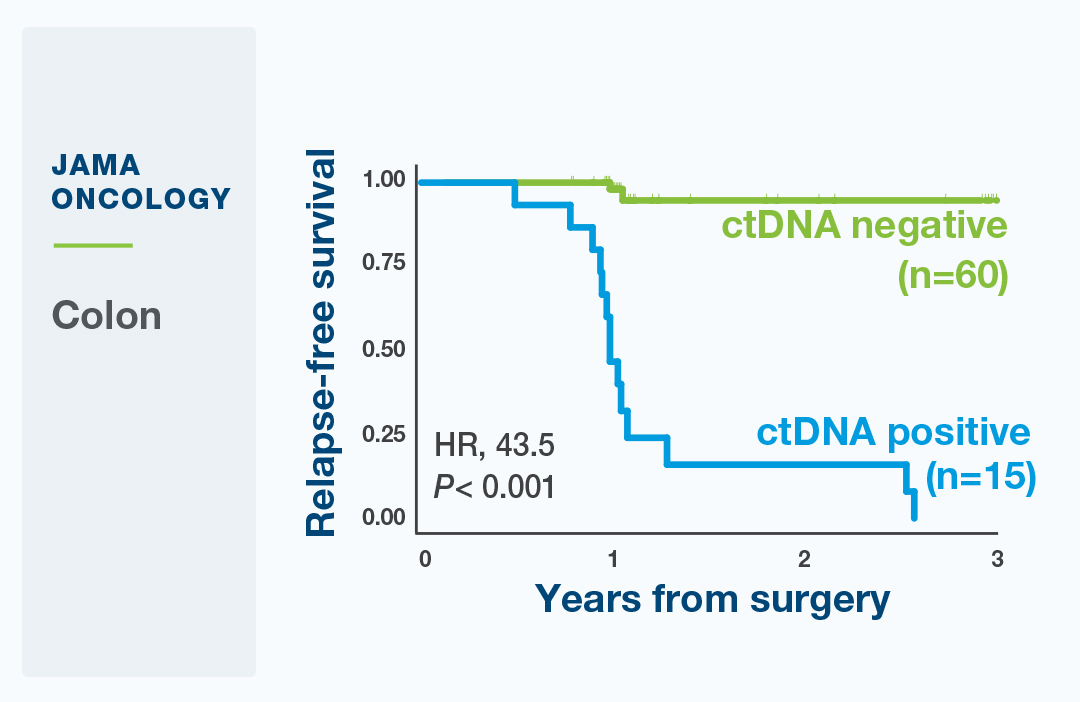 Predictive of treatment benefit
Pan-tumor
Quantitative
Personalized
Tumor-informed
Validated in thousands of patients
92% relapse sensitivity in the surveillance setting, based on multiple-peer reviewed studies1-4
Breadth of evidence from over 2000 patients, with consistent performance across multiple studies and tumor types5,6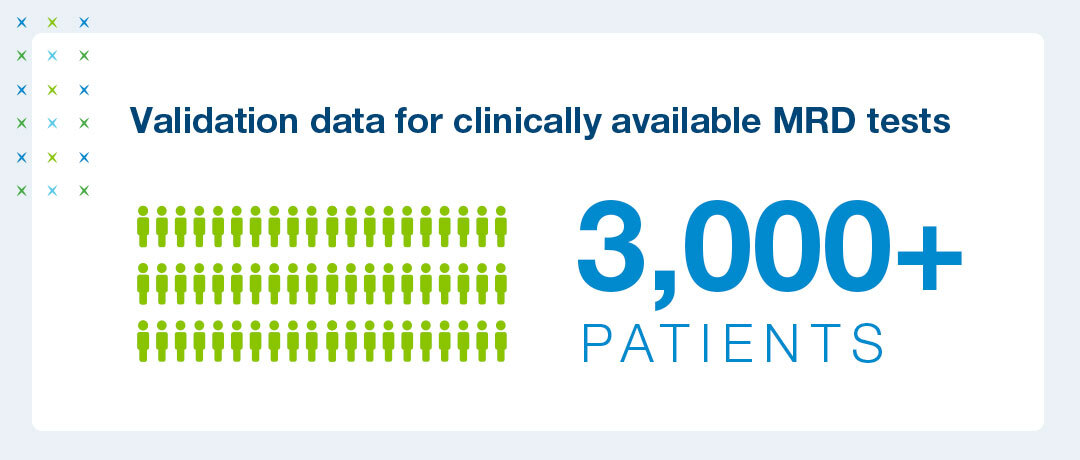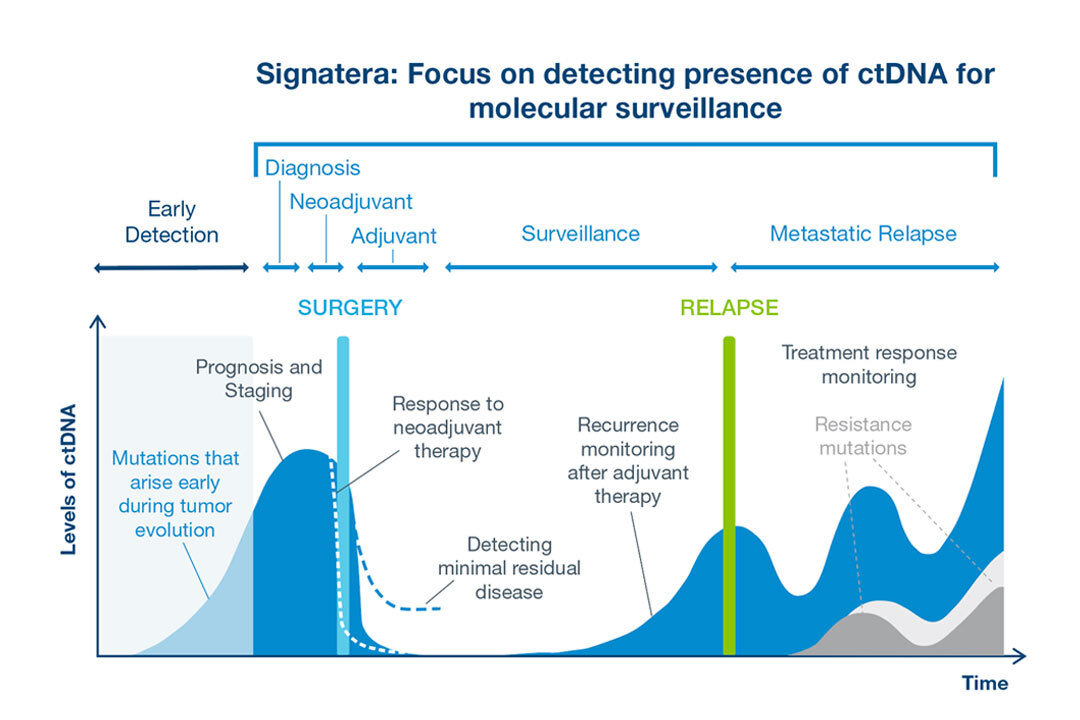 Signatera validation showed persistent ctDNA clearance in 30% of patients who tested positive prior to treatment in a validation study with Stage II & III CRC patients1
Test performance has been evaluated for 3 critical decision points in early-stage CRC, compared to tumor-naive method1,6

30 days post-surgery to inform adjuvant treatment decisions.

Single test post adjuvant treatment. 

Serial surveillance testing, to rule in / rule out recurrence
Reliable, quantitative ctDNA results
Easy-to-interpret report for serial monitoring
Optimized to monitor tumor response during treatment
Shows presence/absence of ctDNA and quantity in terms of copies/mL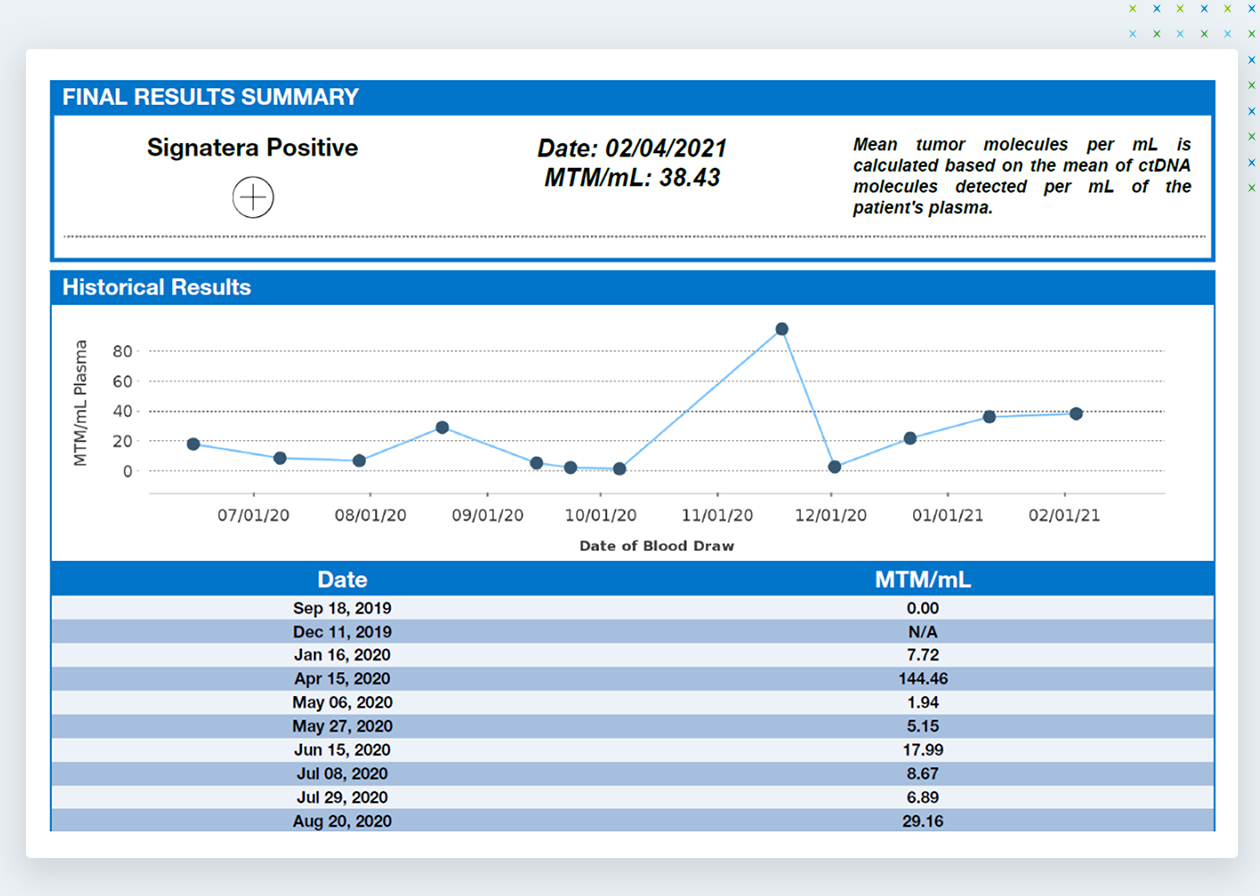 Benefits cover serial use of Signatera in patients with stage II or III colorectal cancer
Draft LCD proposes coverage of Signatera for immunotherapy response monitoring in all clinically validated solid tumor
Enabling you to make more informed treatment decisions for improved patient care. Watch now to learn more.
References
1 Reinert T, Henriksen TV, Christensen E, et al. Analysis of Plasma Cell-Free DNA by Ultradeep Sequencing in Patients With Stages I to III Colorectal Cancer. JAMA Oncol. 2019.
2 Coombes RC, Page K, Salari R, et al. Personalized Detection of Circulating Tumor DNA Antedates Breast Cancer Metastatic Recurrence. Clin Cancer Res. 2019;25(14):4255-4263.
3 Abbosh C, Birkbak NJ, Wilson GA, et al. Phylogenetic ctDNA analysis depicts early-stage lung cancer evolution. Nature. 2017;545(7655):446-451.
4 Christensen E, Birkenkamp-Demtroder K, Sethi H, et al. Early Detection of Metastatic Relapse and Monitoring of Therapeutic Efficacy by Ultra-Deep Sequencing of Plasma Cell-Free DNA in Patients With Urothelial Bladder Carcinoma. J Clin Oncol. 2019;37(18):1547-1557.
6 Parikh, A. et. al. Minimal residual disease (MRD) detection in colorectal cancer (CRC) using a plasma- only integrated genomic and epigenomic circulating tumor DNA (ctDNA) assay. ESMO 2020