Non-invasive prenatal testing (NIPT)
Panorama is a blood-based genetic, prenatal screening test of the pregnant mom that screens for common chromosomal conditions that affect a baby's health. Panorama uses unique SNP*-based technology to deliver the most accurate non-invasive prenatal testing on the market.
Panorama can be performed as early as nine weeks gestation. Most results will be returned to your doctor within 5-7 calendar days.
*SNP, single nucleotide polymorphism
Watch our Webinar:
"Broader adoption of NIPT: Implications for Health Systems"
In August 2020, ACOG/SMFM issued guidelines recommending cfDNA (NIPT) be offered to all patients regardless of maternal age or baseline risk. Watch our webinar to learn more.
Recent ACOG guidelines support NIPT for all pregnancies1
Recommends NIPT as an option to be "discussed and offered to all patients early in pregnancy, regardless of maternal age or baseline risk."
Endorses cfDNA as the "most sensitive and specific screening test for the common fetal aneuploidies."
Highlights unique advantages of SNP-based NIPT, including triploidy detection and unique twins capabilities such as zygosity detection and individual fetal fraction measurements.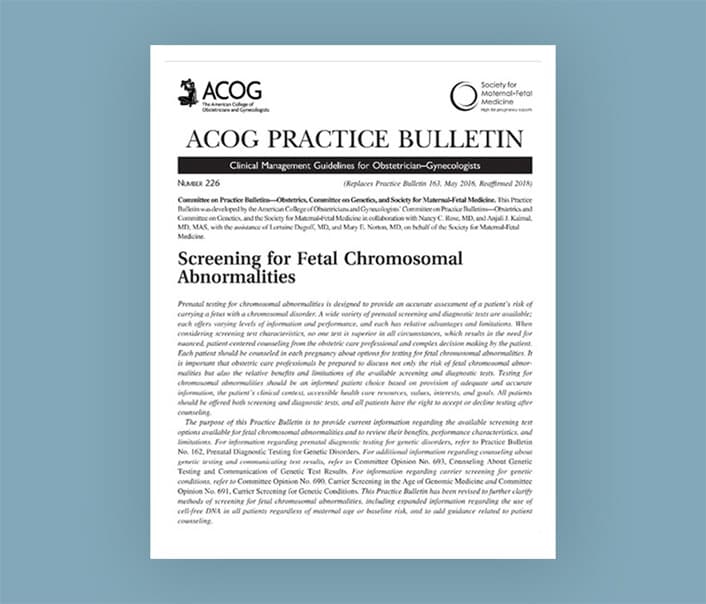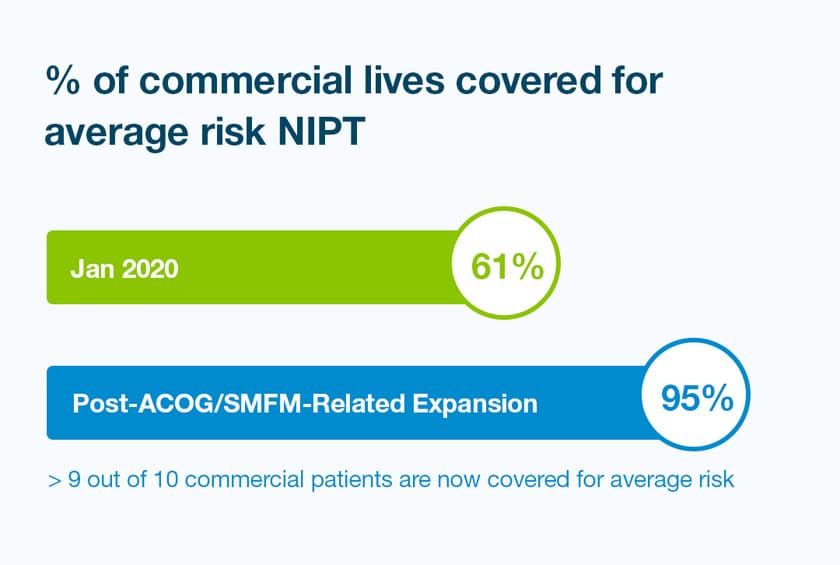 Insurers now broadly cover NIPT for average risk
Major private health insurance companies including UnitedHealthcare, Aetna, Humana, and Centene have recently updated their policy guidelines to extend NIPT coverage to all expectant women.2
Panorama is highly aligned with ACOG Practice Bulletin 226
PANORAMA'S AREAS OF UNIQUE CLINICAL VALUE
ACOG PRACTICE BULLETIN 226 HIGHLIGHTS1
PANORAMA SNP-BASED NIPT3,4,5,6
COUNTING-BASED NIPT METHODS7, 8, 9, 10,11,12,13,14
Twins differentiation
"Cell-free DNA [NIPT] can be performed in twin pregnancies"
"…one laboratory method which uses SNP analysis reports zygosity as well as individual fetal fractions."
Every result matters
"[In twin gestations,] it is possible that an aneuploid fetus would contribute less fetal DNA, therefore masking the aneuploid result."
Highlights known sources of false positives for most NIPTs:
Vanishing twin   |   Maternal mosaicism
Addressed
Not addressed
Accuracy and reliability
"Of the [NIPT] methods, the [SNP-based] method can identify triploidy."
"…the lower prevalence of fetal trisomies in younger patients results in…a lower PPV…"
Robust clinical PPVs published
Analytical PPVs available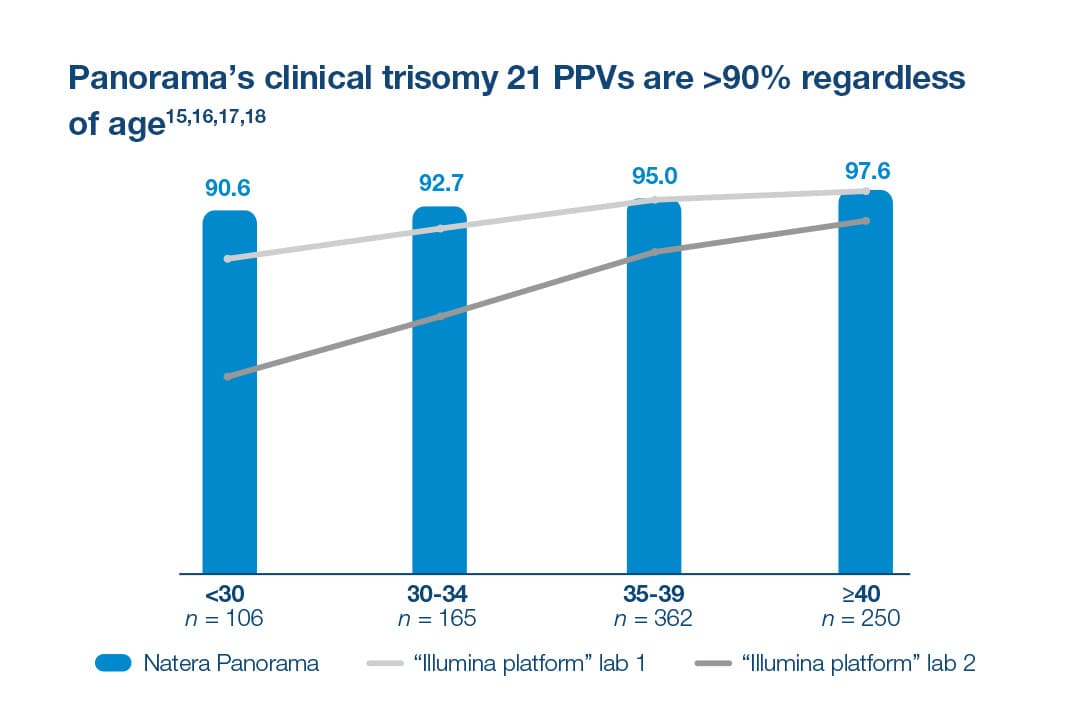 Proven performance in average risk pregnancies
Strong clinical evidence with robust PPVs regardless of age, based on a large outcomes study with >700,000 patients under <35.
Panorama clinical outcomes in a study of over 1 million patients:
NateraCore services support providers and patients at every step
Comprehensive services to seamlessly integrate high quality testing into routine practice.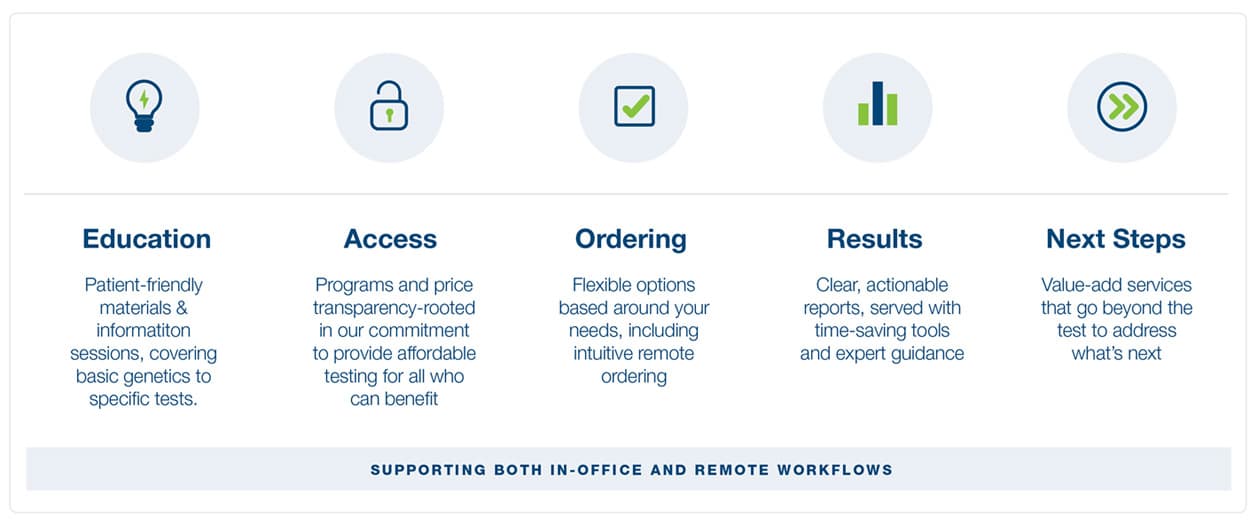 Natera Sync
Direct with your EMR
NateraSync is a flexibile solution suite built to securely integrate with your EMR and deliver end-to-end workflow efficiency.
Natera Academy
On-demand educational options
Created by Natera's Medical Directors and Genetic Counselors, Natera Academy offers educational resources for healthcare providers.
Is Panorama right for you?
We're here to help you find out
References
1ACOG Practice Bulletin 226. Obstet Gynecol. 2020 Oct;136(4):859-867.
3Dar et al. Multicenter prospective study of SNP-based cfDNA screening for aneuploidy with genetic confirmation in 18,497 pregnancies. Society of Maternal-Fetal Medicine, SMFM. Virtual Meeting. Oral Presentation. Jan 25-30, 2021
4Pergament et al. Obstet Gynecol. 2014 Aug; 124(2 Pt 1):210-8
5Nicolaides et al. Prenat Diagn. 2013 June; 33(6):575-9
6Ryan et al. Fetal Diagn Ther. 2016;40(3):219-223
7Stokowski et al. Prenat Diagn. 2015 Dec; 35(12):1243-6
8Jones et al. Ultrasound Obstet Gynecol. 2018 Feb;51(2): 275-276
9Palomaki et al. Genet Med. 2011 Nov; 13(11):913-20
10Palomaki et al. Genet Med. 2012 Mar; 14(3):296-305
11Porreco et al. Am J Obstet Gynecol. 2014;211:365.e1-12
12Sehnert et al. Clin Chem. 2011 Jun;57(7):1042–1049
13Bianchi et al. Obstet Gynecol. 2012 May; 119(5):890-901
14Bianchi et al. N Engl J Med. 2014;370:799-808
15DiNonno W. et al. J Clin Med. 2019 Aug; 8,1311
16Natera internal data on file
17Myriad Women's Health website accessed Oct 23 2019
18Progenity Innatal Clinician Guide.