Sponsored Renasight™ genetic testing for eligible* Black patients with non-diabetic chronic kidney disease†
African Americans are 3 to 4 times more likely to develop kidney failure, which has raised the possibility of a genetic cause for this disparity.1, 2 Research has discovered hundreds of genes linked to increased risk for kidney disease, including the APOL1 gene – thought to be associated with a rapidly progressive form of chronic kidney disease for people of African ancestry who have high risk variants. Genetic testing is the first step for patients to understand their genetic risk and better inform their treatment options.
Vertex Pharmaceuticals is sponsoring a no-cost testing program to provide Renasight™ genetic test to eligible* individuals who have been diagnosed with non-diabetic chronic kidney disease.
Why Genetic Testing?
Renasight™ provides critical information to individualize and improve patient care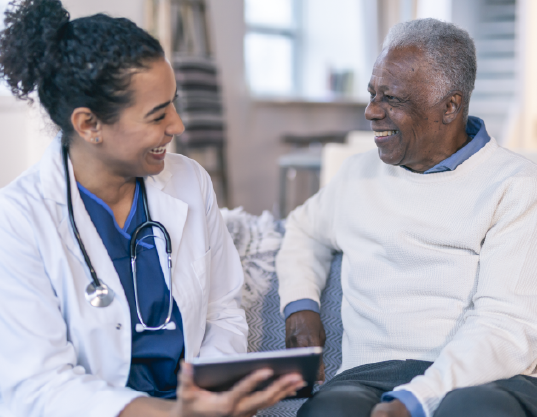 Comprehensive and Convenient
Comprehensive: Leverages next generation sequencing to analyze 385 genes that were selected by genetic experts to provide clinically actionable information.
Convenient: Remote testing services including virtual ordering for providers and at home sample collection for patients (saliva or mobile blood draw). Complimentary information sessions with board-certified genetic counselors.
Are you located in an approved region?
Select your user type to proceed!
† The Sponsored Renasight™ Genetic Testing Program is funded by Vertex Pharmaceuticals