Employee Spotlight: Nicole Hook Rattigan, Senior Medical Science Liaison (MSL)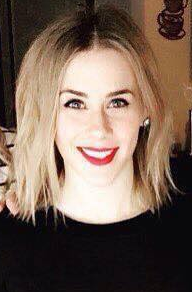 The medical science liaison (MSL) serves as a key, field-based scientific resource for clinicians, academic institutions, and professional organizations. Nicole Hook Rattigan was the first MSL to join the oncology team. Nicole works closely with our sales and marketing teams, providing resources and presentations to key opinion leaders and other relevant healthcare professionals.
Nicole stands out as an ambassador for Signatera and MRD based precision medicine. She is generous with sharing her expertise. Even more important, she takes great care listening to oncologists to learn where they find utility in Signatera and what questions they would like to explore further. – Sara Wyrick, Regional Director, Sales, Pacific NW
Tell us a little about yourself and your background.
Originally from Toronto, Canada, I now live in Denver with my husband, Kevin, and our two orange cats, Henry and Phoebe. I grew up as quite the nomad, though, and have spent time in Chicago, New York, New England, and Ohio over the years. My youth was mostly dominated by competitive gymnastics, through which I became a national champ. Prior to working at Natera, I spent a few years as a clinical genetic counselor in a hereditary cancer and cardiac predisposition clinic. I also have two younger sisters, who are my best friends.
Why did you choose this field?
I chose genetic counseling given the continuous and dynamic innovation in the field of genetics and my desire to translate that to patient care. As an MSL, I'm immersed in this innovation daily and am an integral part of the evolution and transformation of how cancer patients are managed. And I love that.
What do you like most about this field?
That it's changing and evolving so rapidly. The status quo is never enough and I love being a part of a field that values constant innovation and improvement.
How has the field transformed since you started? Where is it going?
Five years ago, oncologists were rarely thinking of using ctDNA to track molecular residual disease (MRD). It's amazing to see Signatera now being used to better the way cancer patients are managed. I believe it's only going to grow in application and adoption and has significant opportunity to change the cancer management paradigm.
What are the three must-haves (e.g., coffee, notebook, sugar) on your desk during the week?
Post-it notes and gel pens (contrary to my school teachers' beliefs, doodling helps with focus!), cup(s) of tea, inevitably one of my cats.
What has surprised you most about working at Natera?
The opportunity to apply my genetic counseling background in new and innovative ways.
Outside of your work, what do you like to do for fun?
CrossFit, hiking, baking, kicking butt at various board games.