How COVID-19 Is Affecting the Oncology Community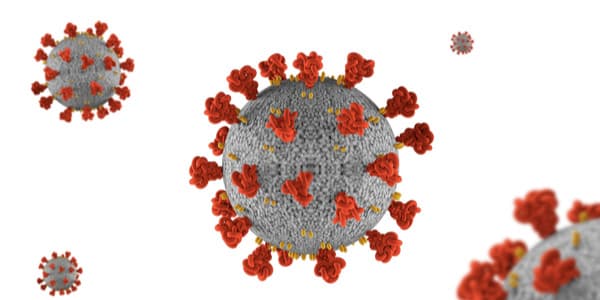 The COVID-19 pandemic is changing the world in unimaginable ways. While nearly everyone is at risk for developing the disease, certain groups of people, including those with cancer, are particularly susceptible to it. In addition, COVID-19's shock on the health care community may impact treatment options for current patients and make it more challenging to continue treatment that is underway.
While the landscape is ever-changing, understanding more about this pandemic can help health care providers and patients alike weigh their options in the days to come.
COVID-19, which was first identified in Wuhan, China, is caused by severe acute respiratory syndrome coronavirus 2 (SARS-CoV-2). It has spread to 70 countries and was declared a pandemic by the World Health Organization (on March 11, 2020). 1
While people with COVID-19 can be asymptomatic, the disease also causes symptoms including fever, shortness of breath, coughing, muscle aches, sore throat, and loss of smell or taste, among others. Most people who develop COVID-19 will have mild symptoms and recover. However, in some people, the virus can lead to pneumonia, multi-organ failure, and death. The death rate per total diagnosed cases is estimated to be 3% (as of March 2020). 2
The virus appears to be spread primarily through respiratory droplets from coughing or sneezing and close contact. It can also be transmitted by touching a surface where the virus is present and then touching one's face. The incubation range is between two and 14 days. 3
COVID-19 affects the lungs, impacting the alveolar cells, which in turn affects the ability to exchange oxygen and carbon dioxide. It can develop into pneumonia and acute respiratory distress syndrome, and can require a ventilator to help lung function.
Because of COVID-19's impact on the lungs, some people are more susceptible to the disease and likely to experience more severe symptoms if they develop it. According to the Centers for Disease Control and Prevention, individuals who are high-risk for severe COVID-19 symptoms include:
People age 65 and over
Residents of long-term nursing facilities
People with pre-existing medical conditions including moderate to severe asthma, chronic lung disease, diabetes, and liver disease
People who are immunocompromised such as those undergoing cancer treatment 4
As of now, there is no cure for COVID-19. Many states have issued shelter-at-home directives, which require residents to leave home only for essential business such as for groceries or medical care. Washing hands frequently, avoiding people with the disease, and avoiding large groups of people also help prevent the spread of the disease.
What Does COVID-19 Mean for Cancer Patients?
In 2020, it's estimated that roughly 1.8 million cancer cases in the United States will be diagnosed.5 The most common include (in order of prevalence) breast, lung/bronchus, prostate, colon/rectum, melanoma/skin, bladder, Non-Hodgkin lymphoma, kidney, and renal pelvis.6 For the hundreds of thousands of people currently undergoing cancer treatment, COVID-19 may represent another obstacle to overcome.
Cancer patients may have to weigh the risks and benefits of continuing treatment and enduring travel that may increase the risk of developing COVID-19; further adding to the fear and anxiety they're already experiencing. Many health care facilities and hospitals are limiting access to people who do not need medical care to help slow the transmission of the virus, or may not be able to provide some treatments as the focus turns to COVID-19 patients. Clinical trials may be affected, as well. 7
There's also the emotional aspect these types of changes and delays can produce. Patients may be understandably anxious about having to delay scans or treatment, especially when they fear recurrence. COVID-19 may also mean greater isolation from loved ones, whether due to shelter-at-home restrictions or to reduce exposure to the virus — at a time when social support and connection are more critical than ever.
Cancer treatment guidelines are currently being developed that may help determine which patients should stop, delay, initiate, or continue treatment. Because guidelines are constantly changing, keeping up with social media platforms including Twitter, Facebook, and LinkedIn can help you and your patients make the most-informed decisions. (Follow #OncoAlert for the latest on best practices.) Some recent recommendations and resources have been included in the reference section.
How Companies Are Helping
Hundreds of companies are offering help to the medical community and the patients they serve. They are donating masks and personal protective equipment, producing hand sanitizer, and manufacturing respirators and other essential equipment. Airlines and rental car companies are donating free flights and rental cars to health care workers. Other companies are offering delivery and curbside pickup of essentials for people unable to leave their homes.
At Natera, we want to help, too. We recognize that COVID-19 may mean that many cancer patients and oncologists will interrupt their standard surveillance schedules, or that they may decide to delay or avoid chemotherapy because of its impact on the immune system.
To help support the Oncology Community, Natera has created its GI Cancer Expanded Access Program.This program makes Signatera MRD testing remotely available for GI cancer patients who are candidates for reducing chemotherapy or are at risk of delayed surveillance visits. Research has shown that patients who test MRD-negative with Signatera are at significantly reduced risk of relapse. 8 Based on clinical assessment, these patients may be eligible for treatment de-escalation and fewer scans.
If COVID-19 has affected your patient's ability to pay their Natera genetic testing bill, Natera offers financial assistance programs and Compassionate Care. Read more about what to expect from your Natera genetic testing bill for Signatera
here
.
References
1Cascella M, Rainik M, Cuomo A, et al. Features, Evaluation and Treatment Coronavirus (COVID-19). https://www.ncbi.nlm.nih.gov/books/NBK554776/ March 20, 2020. Accessed April 6, 2020.
2Cascella M, Rainik M, Cuomo A, et al. Features, Evaluation and Treatment Coronavirus (COVID-19). https://www.ncbi.nlm.nih.gov/books/NBK554776/ March 20, 2020. Accessed April 6, 2020;
WebMD. Coronavirus and COVID-19: What You Should Know. https://www.webmd.com/lung/coronavirus. April 3, 2020. Accessed April 6, 2020.
3Cascella M, Rainik M, Cuomo A, et al. Features, Evaluation and Treatment Coronavirus (COVID-19). https://www.ncbi.nlm.nih.gov/books/NBK554776/ March 20, 2020. Accessed April 6, 2020.
4Centers for Disease Control. People Who Are at Higher Risk for Severe Illness. https://www.cdc.gov/coronavirus/2019-ncov/need-extra-precautions/people-at-higher-risk.html Updated April 2, 2020. Accessed April 9, 2020.
5National Cancer Institute. Cancer Statistics. https://www.cancer.gov/about-cancer/understanding/statistics Updated April 27, 2018.Accessed April 2, 2020; Siegel R, Miller K, Jemal A. Cancer statistics, 2020. CA: A Cancer Journal for Clinicians. January 8, 2020. https://doi.org/10.3322/caac.21590; American Cancer Society. Cancer Fact and Figures. https://www.cancer.org/research/cancer-facts-statistics/all-cancer-facts-figures/cancer-facts-figures-2020.html. Accessed April 6, 2020.
6National Cancer Institute. Cancer Statistics. https://www.cancer.gov/about-cancer/understanding/statistics Updated April 27, 2018.Accessed April 2, 2020.
7Centers for Disease Control. Information for Patients and Caregivers. https://www.cdc.gov/cancer/preventinfections/patients.htm Updated November 7, 2019. Accessed April 6, 2020; Miriam Falco. National Cancer Institute. Common Questions About the New Coronavirus Outbreak. https://www.cancer.org/latest-news/common-questions-about-the-new-coronavirus-outbreak.html. April 3, 2020. Accessed April 6, 2020.
81. Reinert T, Henriksen TV, Christensen E, et al. Analysis of plasma cell-free DNA by ultradeep sequencing in patients with stages I to III colorectal cancer. JAMA Oncol. 2019;5(8):1124–1131;
Coombes RC, Page K, Salari R, et al. Personalized detection of circulating tumor DNA antedates breast cancer metastatic recurrence Clin Cancer Res. 2019;;25(14):4255-426;. Abbosh C, Birkbak NJ, Wilson GA, et al. Phylogenetic ctDNA analysis depicts early-stage lung cancer evolution. Nature. 2017;545:446-451; Christensen E, Birkenskamp-Demtroder K, Sethi H, et al. Early detection of metastatic relapse and monitoring of therapeutic efficacy by ultra-deep sequencing of plasma cell-free DNA in patients with urothelial bladder carcinoma. J Clin Oncol. 2019; 37(18):1547-1557.
The test described has been developed and its performance characteristics determined by the CLIA-certified laboratory performing the test. The test has not been cleared or approved by the US Food and Drug Administration (FDA). Although FDA has generally not enforced the premarket review and other FDA legal requirements for laboratory-developed tests in the US, certification of the laboratory is required under CLIA to ensure the quality and validity of the tests.
CAP accredited, ISO 13485 certified, and CLIA certified © 2020 Natera, Inc. All Rights Reserved.