Prospera, powered by cell-free DNA technology, is a test that uses a simple blood draw to assess the risk of rejection of a transplanted kidney.
For patient and provider convenience, the test and routine labs (including COVID antibody) can be administered by a mobile phlebotomist through our ProReach program.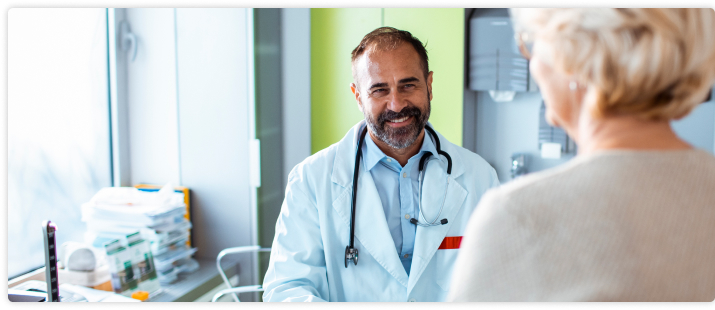 Ensure you are referring the most appropriate patients for biospy
"Prospera is more sensitive and specific than any other test on the market to identify rejection. Using Prospera could potentially avoid a kidney biopsy."

Varun Chawla, MD
Nephrologist
How nephrologists use Prospera
Prospera gives you a more holistic view of your patient's compliance with their immunosuppressive regimen over time compared to a tacrolimus level which, after some time post transplant, is often done quarterly and therefore may miss significant periods of under-immunosuppression due to intermittent non-adherence.
Matthias Kapturczak, MD, PhD
Medical Director
Kidney and Pancreas Transplant Program,
Methodist Hospital Specialty and Transplant
Case Study: Avoiding an unnecessary biopsy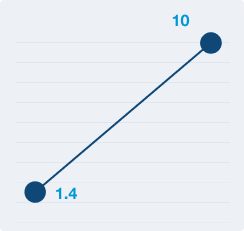 "At ten years post-transplant, the patient's baseline serum creatinine was 1.4 and then jumped to 10."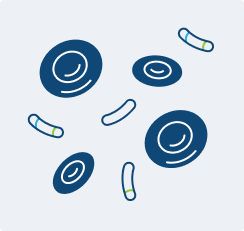 "Simultaneously, her platelets dropped significantly and doing a biopsy was out of the question."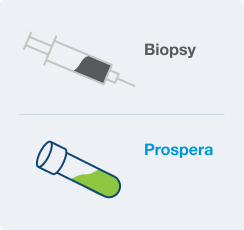 "A Prospera result of 0.15% dd-cfDNA indicated low risk of active rejection where no biopsy was needed."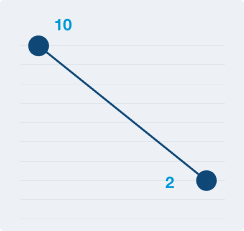 Avoided unnecessary biopsy
"Never treated for rejection, her creatinine levels dropped to 2."
Confidently treat your patients within your own practice
Compared to other commercial dd-cfDNA tests, Prospera catches all types of rejection with greater precision.3,4
With an 89% sensitivity, Prospera misses 3x fewer rejections than serum creatinine and the first generation dd-cfDNA test.1,2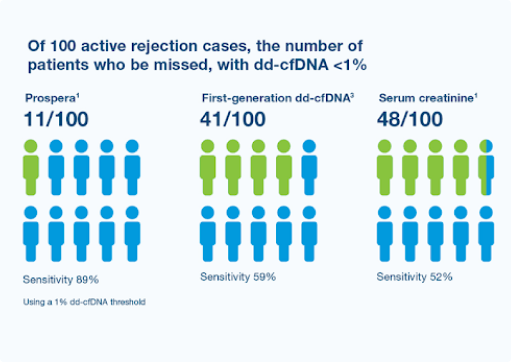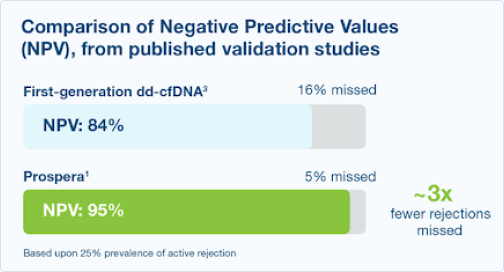 Refer for biopsy only when necessary
With a 95% negative predictive value (NPV), Prospera misses ~3x fewer rejections than the first generation dd-cfDNA test1,2 to help ensure that you are referring your transplant patients for biopsy with greater confidence.
Know more with a single blood draw
Prospera's unique ability to identify T cell-mediated rejection gives a more comprehensive view of your patients rejection status.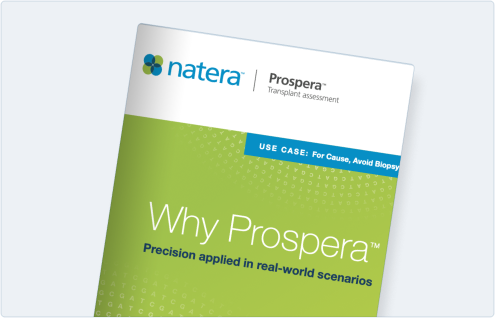 Learn more about Prospera
Download the first brochure of this educational series designed to showcase real use cases for the Prospera transplant assessment test to identify active rejection.
Learn more about ProReach
ProReach brings Prospera and other routine labs to patients at no charge for the remote services, so they can be assessed for transplant rejection without leaving their homes.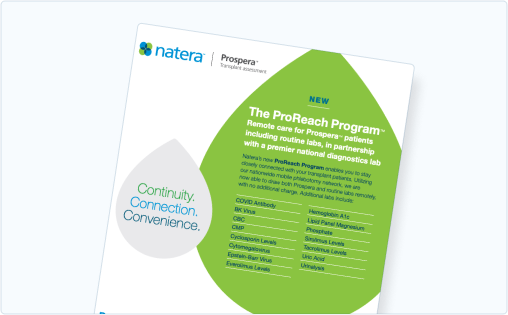 Is Prospera right for you?
References
1Sigdel TK, Archila FA, Constantin T, et al. Optimizing detection of kidney transplant injury by assessment of donor-derived cell-free DNA via massively multiplex PCR. J Clin Med. 2019;8(1):19.
2Bloom RD, Bromberg JS, Poggio ED, et al. Cell-free DNA and active rejection in kidney allografts. J Am Soc Nephrol. 2017;28(7):2221-2232. doi: 10.1681/ASN.2016091034.
3Bloom RD, Broomberg, JS, Poggio ED, et al. Cell-free DNA and active rejection in kidney allografts. J Am Soc Nephrol. 2017;28(7):2221-2232. doi: 10.1681/ASN.2016091034
4Grskovic M, Hiller DJ, Eubank LA, et al. Validation of a clinical-grade assay to measure donor-derived cell-free DNA in solid organ transplant recipients. J Mol Diagn. 2016;18(6):890-902.