With new treatments for spinal muscular atrophy (SMA), screening isn't just knowledge. Carrier screening means informed decisions and the opportunity for earlier, more effective, treatment; it means the chance to change the course of a child's life.
The basics of SMA
What is SMA?
Spinal muscular atrophy (SMA) is a genetic condition that causes the motor neurons in the spine to shrink and die. These neurons communicate with the muscles that control walking, movement of the arms, head, and neck, as well as swallowing and breathing. As the neurons die, the muscles progressively weaken and waste away.1
Learn about SMA and the need for screening through Lola's story.
"It went from, 'I'm going to coach her soccer or softball team'... to 'I'm going to coach her how to roll around in a wheelchair, and maybe one day she'll walk.'"
—Brady Camp, father of Lola (born with SMA)
SMA by the numbers—the statistics tell the story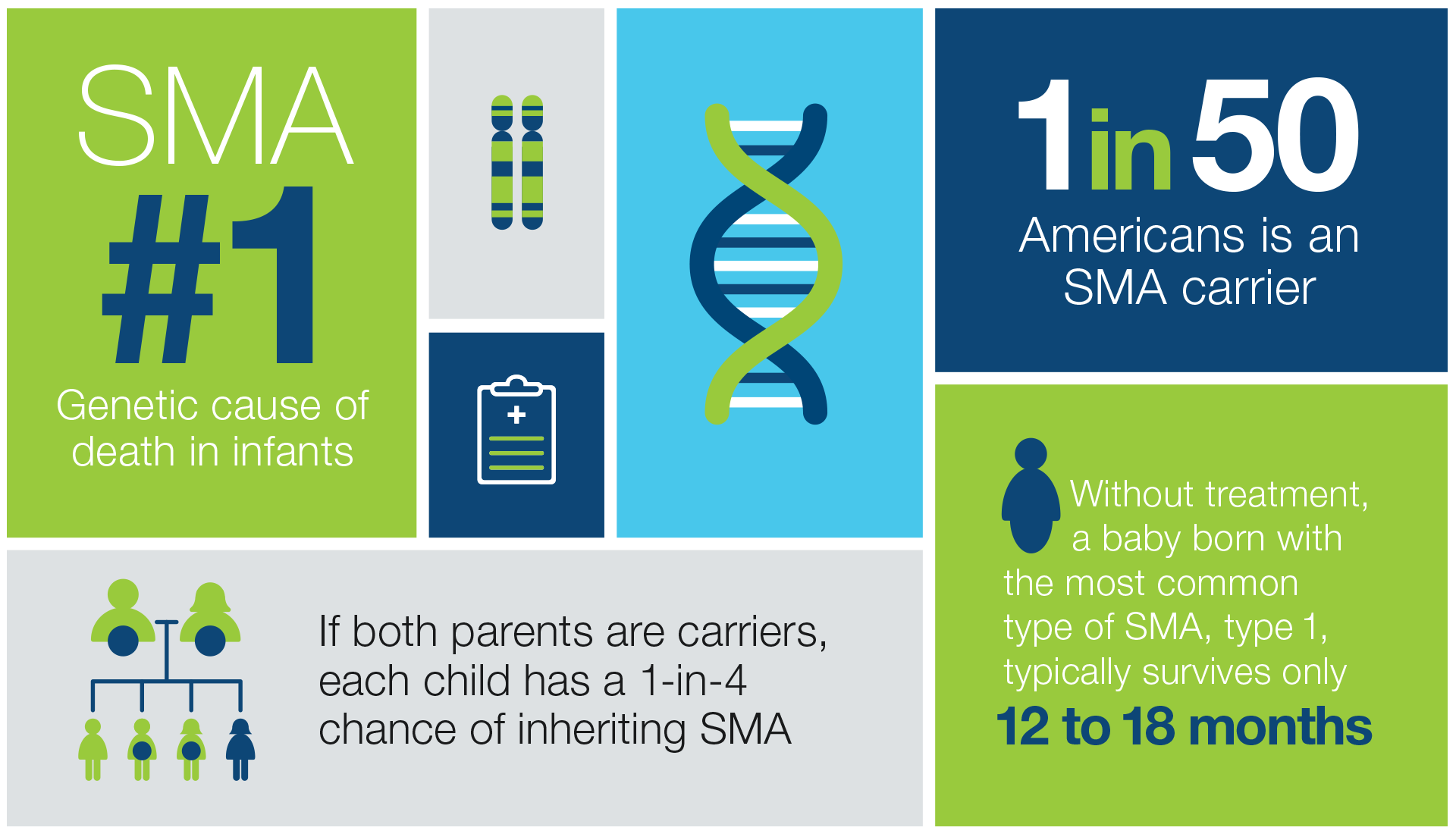 What causes SMA?
SMA is a recessive genetic disorder. To develop SMA, a child needs to inherit two missing or faulty SMN1 genes—one from each parent.
An individual without SMA has at least two healthy copies of the SMN1 gene, generally one on each chromosome; an SMA carrier has only one healthy SMN1 gene and one missing or faulty one. 2

Is there treatment for SMA?
While there is no cure for SMA, two commercially available treatments are showing promising results:
Spinraza was the first FDA-approved drug for SMA. It is given by intrathecal injection and must be taken for the duration of a child's life.

Zolgensma is a one-time IV gene therapy for children under 2 years old.3
In either case, the earlier treatment is given, the more likely it is to make a significant difference.
Just approved: On August 7, 2020, Genentech announced FDA clearance for Evrysdi; once commercially available, it will be the first and only SMA treatment to be administered at home.
In the Prospera early access program, Natera has received tests from 45% of the top 50 and 37% of the top 100 transplant centers by volume
Second line
Natera May 4, 2020 Press Release