How do you guide treatment decisions when next steps are unclear?
Signatera™ Molecular Residual Disease (MRD) Assay is a highly sensitive and custom designed test, using circulating tumor DNA (ctDNA) to help inform treatment decisions.
Contact us to learn more about Signatera™'s personalized, tumor-informed approach
Informing treatment decisions along the continuum of care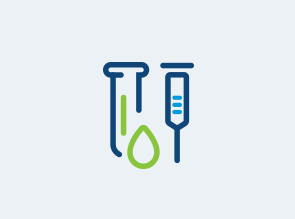 Use Signatera™ after surgery to evaluate the need for adjuvant chemotherapy.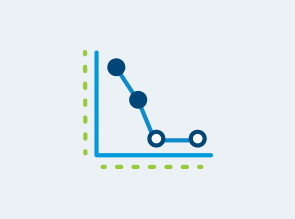 Use Signatera™ alongside CEA and imaging to detect recurrence earlier.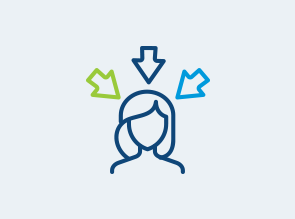 Assess a patient's response to treatment in the neoadjuvant, adjuvant or immunotherapy settings.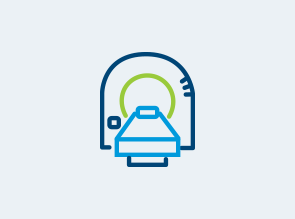 Identify high risk patients with progressive disease who may benefit from earlier intervention or additional imaging.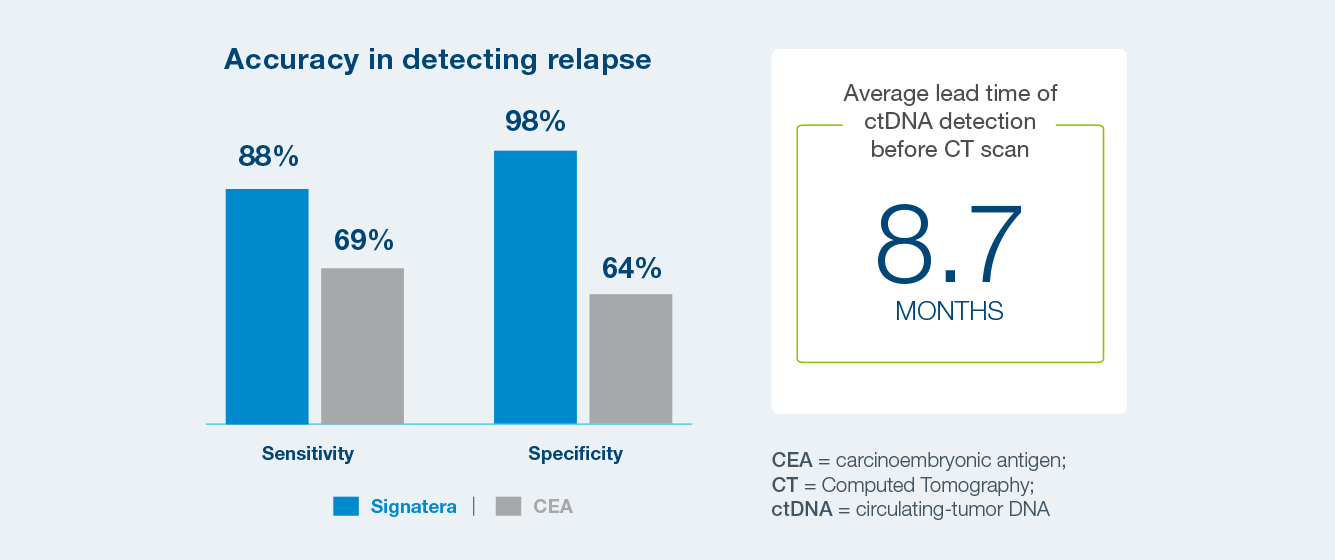 Prognostic of disease recurrence across multiple tumor types
Signatera™ is specifically designed and validated for molecular residual disease (MRD) detection and treatment response monitoring
Custom-designed using the patient's own tumor tissue
Identifies and tracks tumor mutations at the source
Validated to detect disease recurrence across multiple tumor types1-5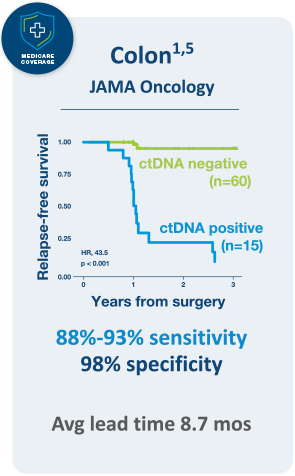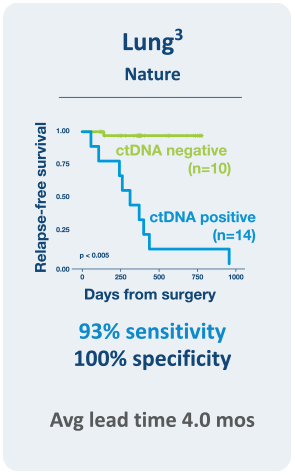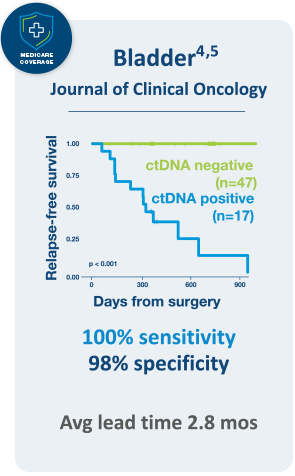 Clinical applications of ctDNA testing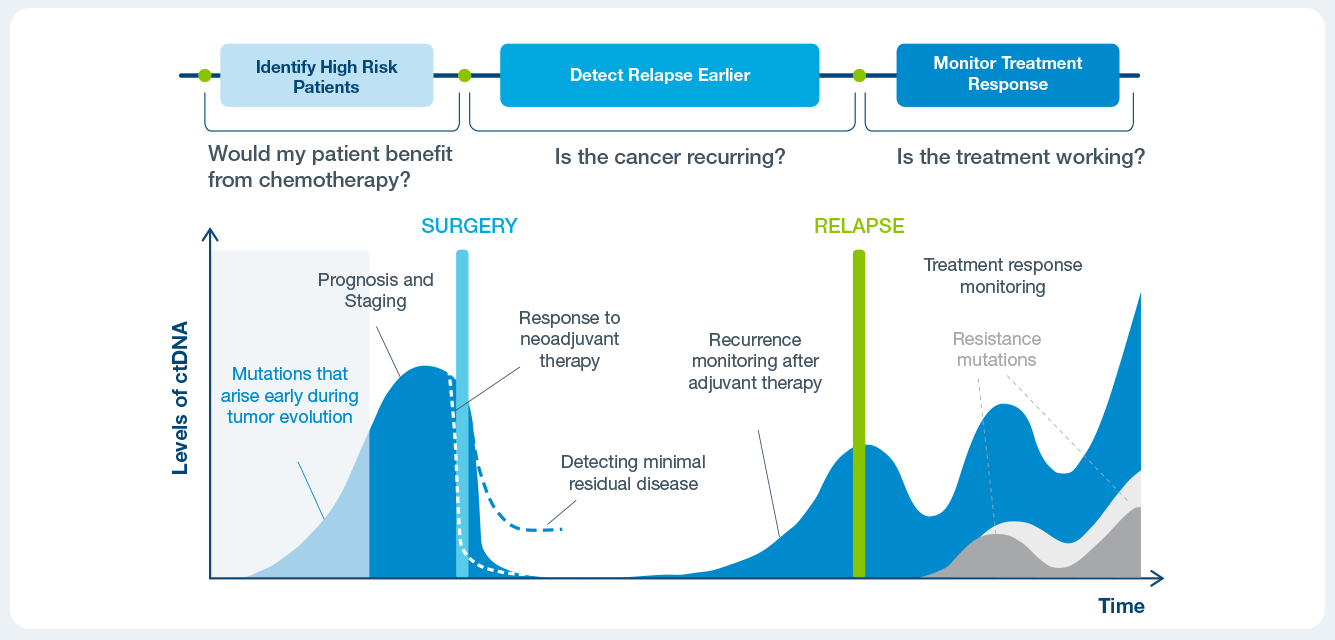 Does additional therapy benefit my patient?
Determining which colorectal cancer patients benefit from adjuvant chemotherapy isn't always clear using current standard of care tools. The GALAXY study set out to better understand if a personalized ctDNA assay can aid risk stratification, better than TNM staging for recurrence.
Study Overview: CIRCULATE-Japan (prospective large-scale registry)
1,039 patients with Stage II-IV colorectal cancer (CRC), enrolled into the observational GALAXY arm of CIRCULATE-Japan, with median clinical follow up of 16.7 months; a subset of patients received adjuvant treatment (ACT) at physicians' discretion
Results were analyzed to determine 18-month disease-free survival (DFS), by molecular residual disease (MRD) status and by treatment status.1
Signatera™ Residual Disease Test (MRD) positivity may be prognostic of survival outcomes post-surgery:
MRD positivity in patients 4 weeks after surgery were associated with a significantly higher risk of recurrence and inferior disease-free survival (DFS) at 18 months of follow-up (HR 10.0, p value <0.0001), regardless of stage.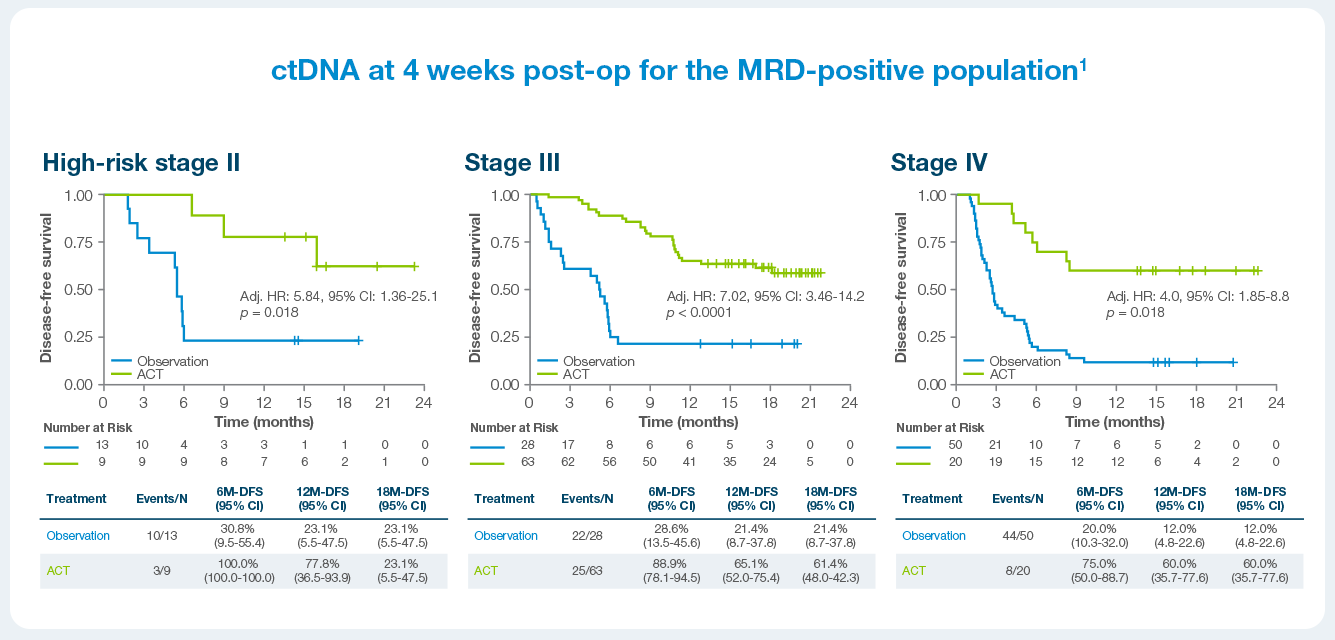 Increasing levels of ctDNA is strongly associated with poorer patient outcomes.
As we have seen in recently presented data, stage III CRC patients who do not clear their ctDNA after curative intent treatment are likely destined to relapse.
Hear how Dr. Dayyani uses Signatera™ and ctDNA status in this stage III patient to help determine next steps to ensure the most favorable outcome.
Accurate Measurement of Disease Burden Over Time via ctDNA Dynamics
Signatera™ is designed to accurately detect residual disease with an ultra-low level of detection (0.01% MTM/mL)
Real time ctDNA analysis can help inform important adjuvant therapy decisions
Signatera™ can also track ctDNA dynamics so you can gain real-time insight of disease burden.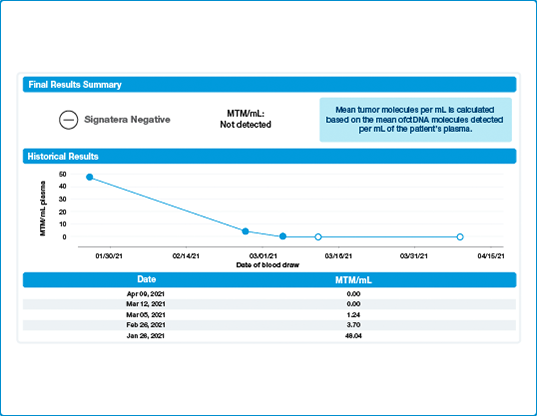 Hear how Beth was able to get back to living after her stage III CRC treatment
Hear the amazing journey of one stage III colorectal cancer patient and how her treating physician used Signatera™ to inform next steps of her treatment.
Is Signatera right for your patients?
We're here to help you find out
References
1Reinert T, Henriksen TV, Christensen E, et al. Analysis of Plasma Cell-Free DNA by Ultradeep Sequencing in Patients With Stages I to III Colorectal Cancer. JAMA Oncol. 2019.
2Coombes RC, Page K, Salari R, et al. Personalized Detection of Circulating Tumor DNA Antedates Breast Cancer Metastatic Recurrence. Clin Cancer Res. 2019;25(14):4255-4263.
3Abbosh C, Birkbak NJ, Wilson GA, et al. Phylogenetic ctDNA analysis depicts early-stage lung cancer evolution. Nature. 2017;545(7655):446-451.
4Christensen E, Birkenkamp-Demtroder K, Sethi H, et al. Early Detection of Metastatic Relapse and Monitoring of Therapeutic Efficacy by Ultra-Deep Sequencing of Plasma Cell-Free DNA in Patients With Urothelial Bladder Carcinoma. J Clin Oncol. 2019;37(18):1547-1557.
5Kotaka et al. Association of circulating tumor DNA dynamics with clinical outcomes in the adjuvant setting for patients with colorectal cancer from an observational GALAXY study in CIRCULATE-Japan. ASCO GI 2022
TEMP ONLY 1Kotaka et al. Nature Medicine