Get Ahead of Cancer: Create Previvors – A Focus on Lynch Syndrome
Lynch syndrome is an inherited condition that increases risk of colon cancer, endometrial cancer, ovarian cancer, and several other cancers. Lynch syndrome is the most common inherited cause of colon cancer and endometrial cancer. Doctors estimate that around 3 out of every 100 colon cancers or endometrial cancers are caused by Lynch syndrome.1
We honor Lynch syndrome mutation carriers, affiliated cancer survivors, and previvors along with their clinicians. You can help patients and their families get ahead of cancer by accessing high-quality, affordable genetic testing with Empower.
Watch our webinar, "Lynch syndrome and Women's Health: How to identify and manage hereditary cancer risk".
Lynch Syndrome Previvors Tell Their Story
"I have a chance to take actionable steps. I don't have to wait for things to happen to me. I get to decide whether or not I know as much as I can and whether or not I do as much as I can."
Megan Trimble
Lynch Syndrome Carrier | Hereditary Cancer Previvor
Because two of the most common types of cancer in Lynch syndrome occur in the female reproductive tract, obstetricians, gynecologists, and gynecologic oncologists are in a unique position to identify women who are at substantial risk of Lynch syndrome.
ACOG PRACTICE BULLETIN NUMBER 147 LYNCH SYNDROME
Lynch Syndrome & Hereditary Cancer Testing: The Role of Women's Healthcare Providers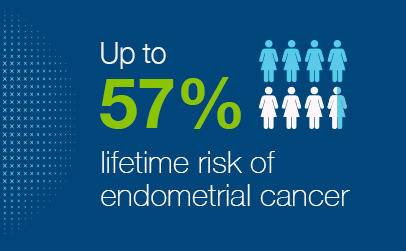 Gynecologic cancer is a hallmark of Lynch syndrome
In addition to increased risk of colorectal cancer, women who are Lynch syndrome carriers are at higher risk of developing endometrial and ovarian cancers than the general population. Gynecologic cancer can often be the first cancer diagnosis in women with Lynch syndrome.2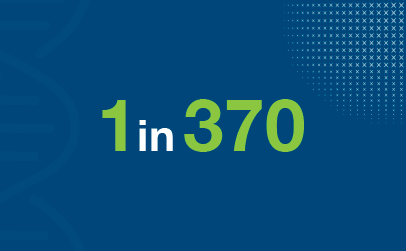 Lynch syndrome is under-recognized
As many as 1 in 370 people are Lynch syndrome carriers3, yet <5% of those who qualify are tested.4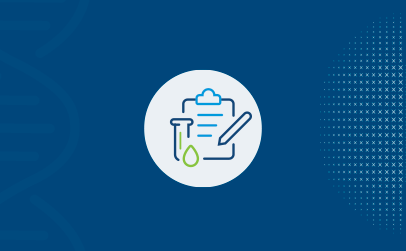 Lynch syndrome can be identified early to manage cancer risk
Not all Lynch syndrome carriers develop cancer. Of those that do, many Lynch syndrome related cancers have high survivability if detected early – some can even be prevented. Genetic test results can improve outcomes by providing access to early and increased screening and risk-reducing options.
Elyse's Story: Beyond BRCA
My grandmother passed from breast cancer and my father was diagnosed with colon cancer before age 50. My whole family did direct to patient testing, and it came back negative for BRCA. I naively assumed that meant I didn't have any other genetic mutations. A few years later my doctor recommended I do a full panel genetic test. That's when I found out I have Lynch syndrome.
Elyse Azriel
Lynch Syndrome Carrier | Hereditary Cancer Previvor | Board Member AliveAndKickn
Lifetime Cancer Risk & Early Diagnosis Survivor Rates
People who have Lynch syndrome have increased risk for many cancers including endometrial, colorectal, ovarian, gastric, pancreatic, brain, or small intestinal cancer. When a patient knows they have a Lynch syndrome-associated genetic mutation, they can begin surveillance and choose risk-reducing options earlier, increasing lifetime survival rate.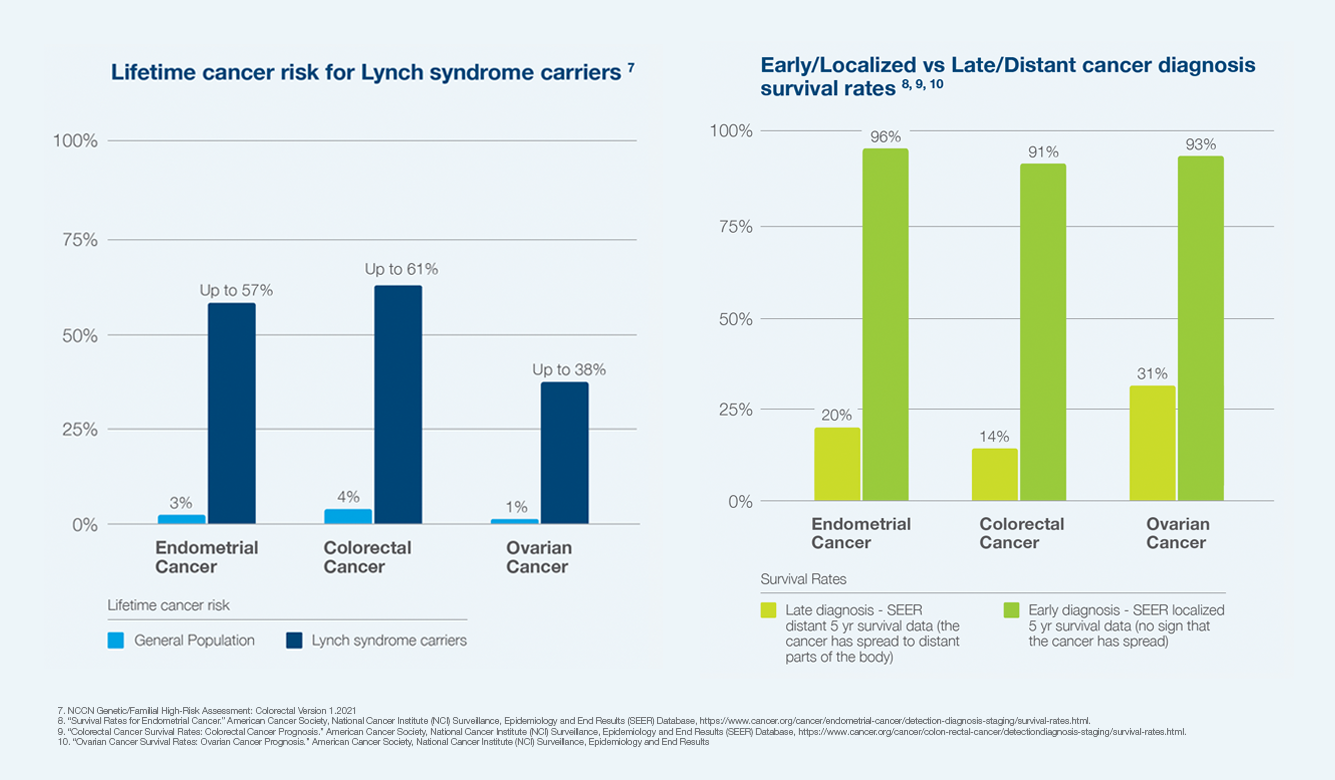 Webinar: Lynch Syndrome & Women's Health: How to Identify and Manage Hereditary Cancer Risk
Join Natera for an exclusive fireside chat with Professor Deborah Cragun (Lynch Syndrome Screening Network), Dr. Amber Shamburger and Kati Young, MS, CGC, to learn:
Why it's important to screen broadly for hereditary cancer risk
How other clinicians have standardized hereditary cancer screening and testing in practice
How to discuss family cancer history with patients and families
How to understand test results and help your patients take preventative action
Jen's Story: Take Control of Your Health
I feel like the luckiest person in the world to have this information. I can be a previvor. I can take control of my health now and make sure that I don't ever have to deal with uterine or colon cancer like every woman in my maternal line has so far.
Jennifer Plent
Lynch Syndrome Carrier | Hereditary Cancer Previvor | Regional Director Natera
Start with a few simple questions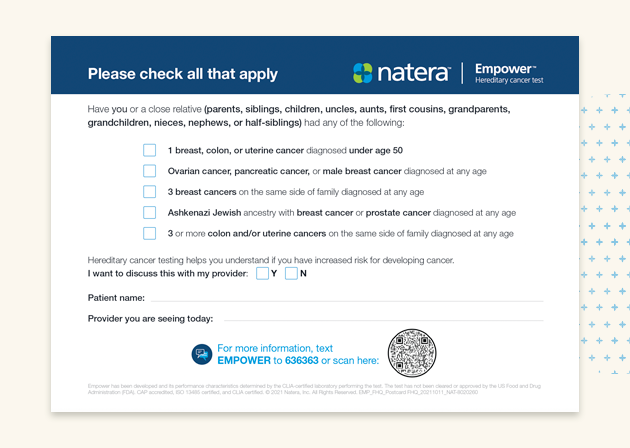 When to consider hereditary cancer testing:
Personal or family history of cancer at age 50 or younger
Personal or family history of ovarian, male breast or pancreatic cancer
Multiple cancers or tumors on the same side of the family
Ashkenazi ancestry
Choices to meet your practice's screening needs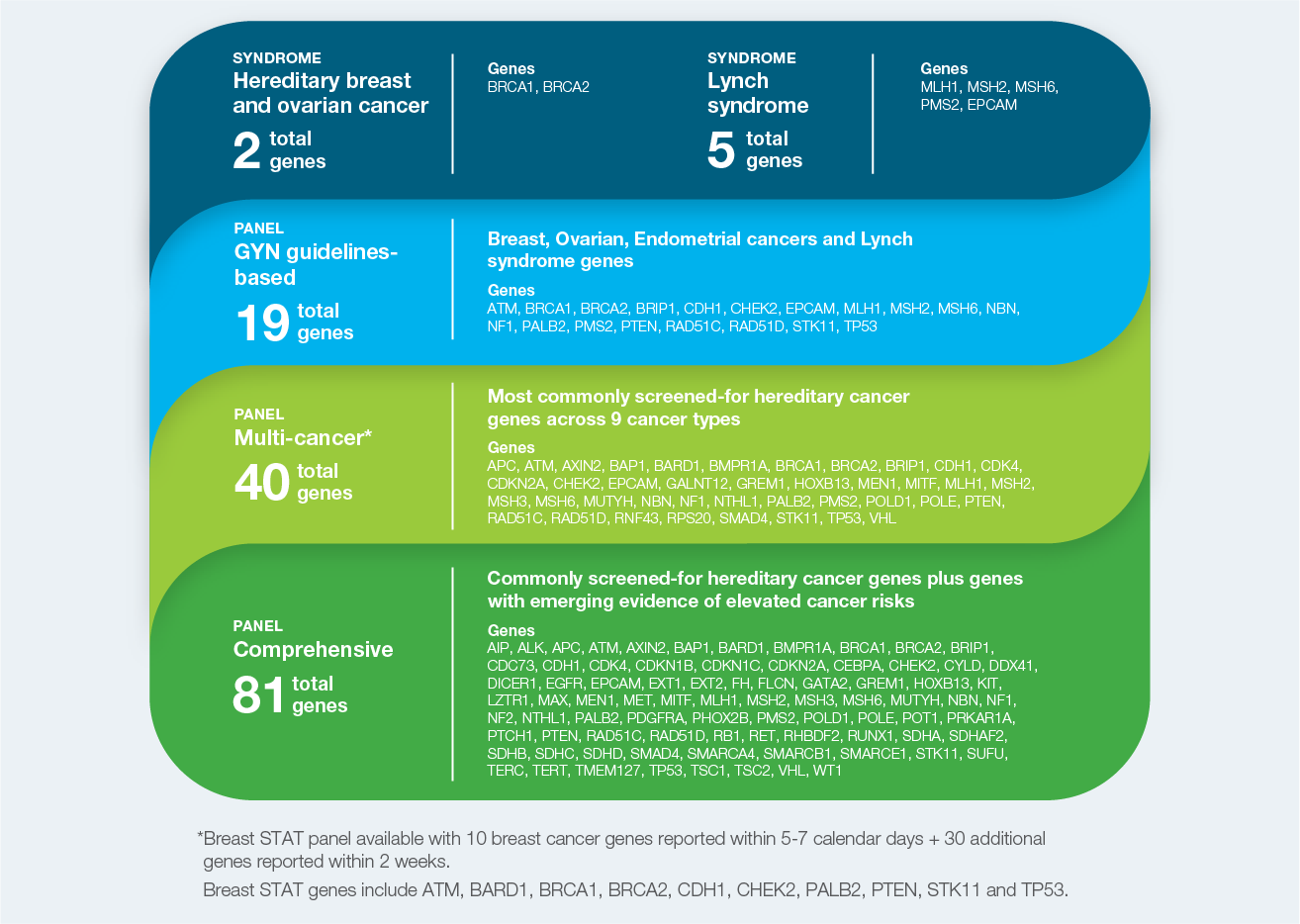 Designed with your practice and patients in mind, Empower offers five panel options with up to 81 genes across 12+ common hereditary cancer types, and customizable gene panels with 190+ gene options. Genes can be selected individually or added by selecting a particular organ system of interest.
Clinical Resources – Lynch Syndrome and Related Cancers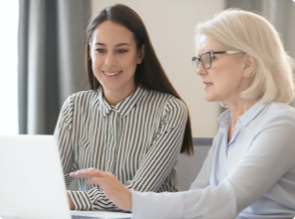 Natera Academy Lynch Short Take
10 minute clinical video presentation with Noelle Goedde, MS, CGC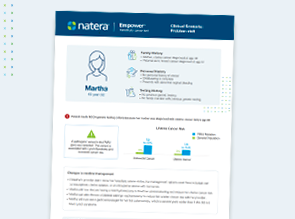 Lynch syndrome carrier: PMS2 gene mutation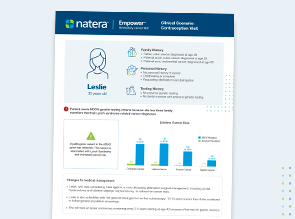 Lynch syndrome carrier: MSH2 gene mutation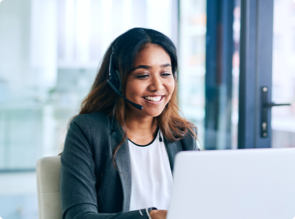 Complementary Genetic Info Session
Natera offers complimentary pre- and post-test genetic information sessions with board certified genetic counselors for all patients and clinicians in the language of their preference
Patient Resources – Lynch Syndrome and Related Cancers
Natera is a proud sponsor of the Living with Lynch campaign led by AliveAndKickn and the Colon Cancer Coalition. Living with Lynch aims to raise awareness about Lynch syndrome through patient stories, colloboration, outreach and education on a broad-reaching scale. AliveAndKickn is a Lynch syndrome advocacy organization that aims to improve the lives of those affected with Lynch syndrome and associated cancers through research, education and screening.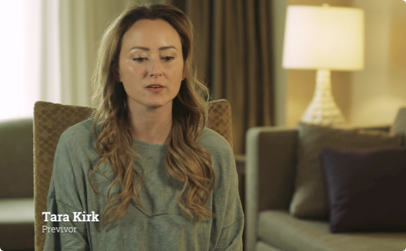 Hear the stories of Lynch syndrome carriers who chose to be cancer previvors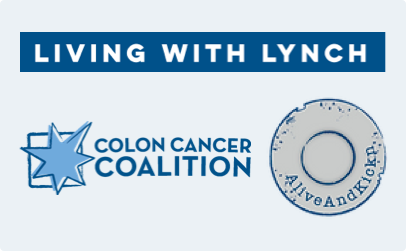 Support & Advocacy Organizations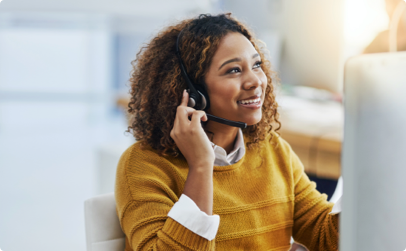 Complementary Genetic Info Session
Patients can schedule a genetic information session by calling Natera Customer Care, visiting the online patient portal or texting "SESSION" to 636363. After a patient completes a genetic information session, his or her provider will receive a detailed consult note summarizing the session within 48 hours of the interaction.
Vital Testing Made Affordable
Natera is committed to ensuring patient access to testing for all who can benefit.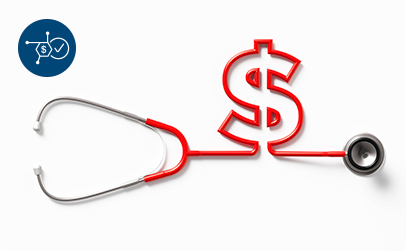 Natera is proud to be an in-network provider with most health plans, including Anthem, Cigna, and UnitedHealthCare.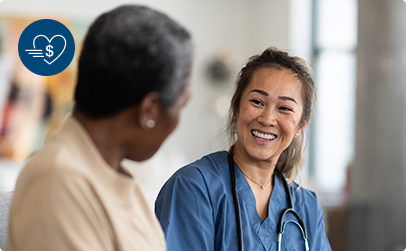 Compassionate Care Program
Patients who qualify for our compassionate care program will pay no more than $149 per test and may owe nothing, depending on their financial situation. Natera also offers self-pay cash options and interest-free payment plans.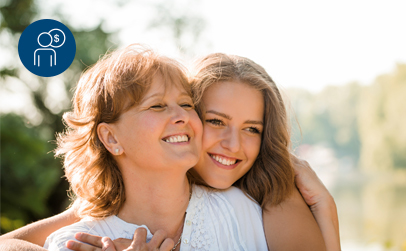 Testing for all blood relatives of patients with a positive result is available at no additional charge*. The test can be ordered by the provider with a copy of the patient's test result.
*Order must be received within 90 days of original report date. Panel must be the same size or smaller compared to previous relative's test order. Not available to family members covered by government insurance plans.
Learn how to offer
Empower at your practice.
Contact your Natera representative or fill out the form below to have a rep contact you.
References
1 Idos G, Valle L. Lynch Syndrome. 2004 Feb 5 [Updated 2021 Feb 4]. In: Adam MP, Everman DB, Mirzaa GM, et al., editors. GeneReviews® [Internet]. Seattle (WA): University of Washington, Seattle; 1993-2022.
2 Lu KH, Dinh M, et al. "Gynecologic cancer as a "sentinel cancer" for women with hereditary nonpolyposis colorectal cancer syndrome." Obstetrics and Gynecology, Mar. 2005, https://pubmed.ncbi.nlm.nih.gov/15738026/.
3 Hampel H, de la Chapelle A. "How do we approach the goal of identifying everybody with Lynch syndrome?" Familial Cancer, Jun. 2013, https://pubmed.ncbi.nlm.nih.gov/23568035/.
4 Cross. et al. "PS1-08: Lynch Syndrome Screening Patterns in Colorectal Cancer Patients in a Large Multi-institutional Cohort". Clinical Medicine & Research, August 1, 2012 vol. 10 no. 3 146
5 Surveillance, Epidemiology and End Results (SEER) Program. https://seer.cancer.gov/ Rubenstein JH et al. American Gastroenterological Association Institute Guideline on the Diagnosis and Management of Lynch Syndrome. Gastroenterology. 2015 Sep;149(3):777-82; quiz e16-7.f