Scientific presentations to further validate the utility of Signatera in multiple tumor types
Breast Cancer: Serial postoperative ctDNA monitoring of breast cancer recurrence

Ekaterina Kalashnikova, PhD

Natera

Lung Cancer: Minimal residual disease (MRD) detection by ctDNA in relation to radiographic disease progression in patients with stage I-III non-small cell lung cancer (NSCLC) treated with definitive radiation therapy.

Emily Lebow, MD

Memorial Sloan Kettering Cancer Center

Sarcoma: Circulating Tumor DNA (ctDNA) detection of Molecular Residual Disease (MRD) as a Potential Biomarker in localized Soft Tissue Sarcoma (STS)

Abdulazeez Salawu, PhD

Princess Margaret Cancer Centre and Mount Sinai Hospital
Merkel Cell: Circulating tumor DNA to measure Merkel cell carcinoma tumor burden and detect early recurrence

Richa Rathore, PhD

Natera

Metastatic Renal: Monitoring Efficacy of Neoadjuvant Sunitinib in Metastatic Renal Cell Carcinoma using a Personalized and Tumor Informed ctDNA Assay

Christine B. Peterson, PhD

Department of Biostatistics, MD Anderson Cancer Center

Colon Cancer: A Single-arm Phase II Study to Evaluate Treatment with Gevokizumab in Patients with Stage II/III Colon Cancer who remain ctDNA+ after Curative Surgery and Adjuvant Chemotherapy

Thomas George, MD

Director of the GI Oncology Program, University of Florida
Colon Cancer: Colon Adjuvant Chemotherapy Based on Evaluation of Residual Disease (CIRCULATE-US): NRG-GI008

N. Arvind Dasari, MD

Associate Professor Dept of Gastrointestinal Medical Oncology, MD Anderson Cancer Center

Immunotherapy: External validation of the VIGex gene-expression signature (GES) as a novel predictive biomarker for immune checkpoint treatment (ICT).

Alberto Hernando-Calvo

Division of Medical Oncology and Hematology, Princess Margaret Cancer Centre
Natera led an Industry Expert Theater on June 5
Personalized MRD assessment to inform treatment decisions in solid tumors
We invite you to join us as we take a closer look how a personalized approach to molecular residual disease (MRD) assessment may be used to address the challenges many physicians face when determining next steps for their cancer patients. Is there a more reliable method to monitor my at-risk patients? Which patients should get adjuvant treatment?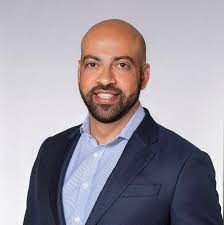 Adham Jurdi, MD
Medical Director, Natera Oncology
Natera's Oncology Portfolio
A single tissue source upfront provides a comprehensive genomic profile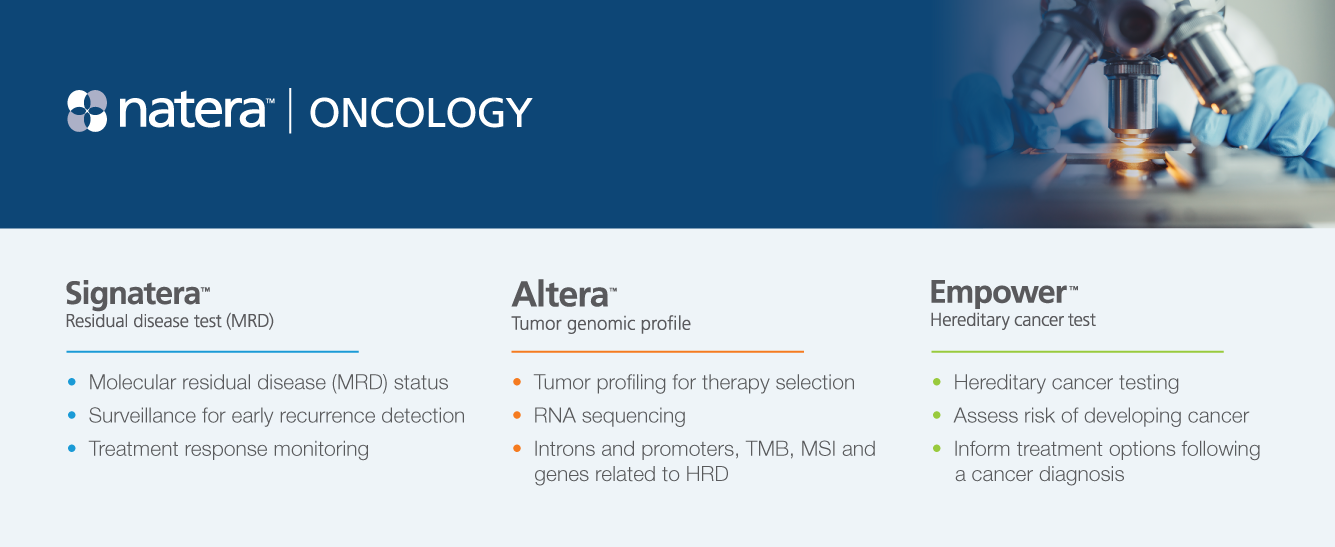 *Reinert T, Henriksen TV, Christensen E, et al. Analysis of Plasma Cell-Free DNA by Ultradeep Sequencing in Patients With Stages I to III Colorectal Cancer. JAMA Oncol. 2019
Learn about Signatera for your clinical trial
Well-designed and successful clinical trials help facilitate earlier "go/no go" decision-making. A trial with Signatera can ultimately enhance the R&D pipeline productivity and impact label expansion of approved oncology drugs to new treatment settings.
Experienced team with Global reach: CE Mark, three FDA Breakthrough Device Designations, 8 Non-Significant Risk (NSR) determinations

>60 Natera IP assets covering ctDNA MRD and monitoring

Clinically validated across multiple solid tumors, Signatera has shown to predict relapse in >98% of patients without further treatment*
PDF DOWNLOADS
Pan Cancer Brochure
Brochure
CIRCULATE Japan Sales Aid
Brochure
PDF DOWNLOADS
Immunotherapy Brochure
Brochure
Patient Brochure
Brochure
Is Signatera right for your patients?
We're here to help you find out