Spotlight: Andrea Goodman, MSW, MPH, Vice President of Patient & Family Support at the Colorectal Cancer Alliance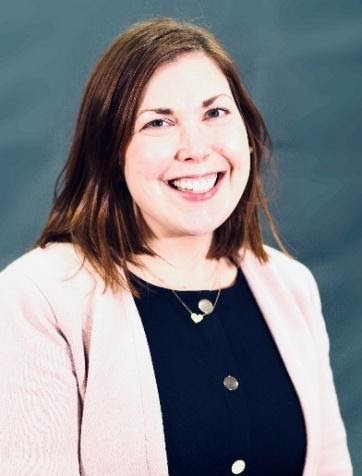 Andrea Goodman is a leader in public health and patient programs, with a passion for participant-centricity and social justice. She serves as the vice president of patient and family support for the Colorectal Cancer Alliance, where she oversees patient and caregiver services, initiatives to support shared decision-making and patient-centered care systems, and efforts aimed at behavior and systems change. Andrea has directed multiple public health campaigns and advocacy programs throughout her career. She values: 1) approaches in plain language, 2) equity, and 3) partnerships to meet people where they are. Andrea holds a Master of Public Health from George Washington University and a Master of Social Work from Columbia University.
Tell us a little more about yourself and your background.
I think the tidbit that best defines my background and my work is that I grew up in a family of activists committed to addressing systemic inequality and vulnerable populations. It completely shaped me and led to interest in a "helping profession." In my early 20s, I pursued a graduate degree in social work. I loved working with clients, but it was very emotionally challenging, and with a passion for healthcare and an itch to plan projects, I moved to DC to pursue a master's in public health. I have been running national public health campaigns ever since.
I have an aversion to inefficiency—in both life and work—that fuels my passion for patient-centered innovation. The healthcare system is fragmented and cumbersome, and it's our responsibility to develop messaging and programs that empower people to make healthy decisions. I always say, "You can build all of the shiny things, but they won't necessarily come!"
Why did you decide to join the Colorectal Cancer Alliance?
Prior to joining, I spent a few years focused on patient-centric projects and developing models for all disease organizations so that they have a real seat at the table in changing outcomes for patients. There is so much exciting opportunity for collaboration across advocacy, biopharma, academia, payers, and regulatory and clinical institutions.
When I saw an opportunity to oversee the patient programs for a cancer organization, it just seemed like the right opportunity to execute on this new model. It's also the perfect fit for both my social work and public health skills. To top it off, the Colorectal Cancer Alliance is a really wonderful place—the staff and community are savvy, trustworthy, empathic, and really passionate. And because there are so many clinical advancements and this is a largely preventable cancer, we have so much opportunity to make a difference! I have learned so much and feel grateful to be a part of it.
What resources do you get access to when joining CCA?
The three pillars of the CCA, all of which are critical for supporting people and ending this disease in our lifetime, are: 1) screen, 2) care, and 3) cure. We offer a portfolio of resources to support people through screening decisions, to care for patients and caregivers as they navigate through and beyond their cancer journeys, and to support clinical trials and other research endeavors toward a cure. Our services include a toll-free Helpline, ongoing navigation, online communities, a "buddy" program, financial assistance, a national patient conference, a clinical trial finder, various patient-education and decision-making tools, and much more. We are in the process of developing a comprehensive, one-stop shop to make it simpler for people to tap into the system of personalized services in their everyday lives.
How has CCA helped the CRC community?
We have navigated hundreds of thousands of people, paid for thousands of colonoscopies, funded hundreds of research studies, and connected patients with others who are on the same journey, but I don't think the numbers tell the full story. When you hear from the people who have gone through cancer and how the Alliance has saved their lives, it impacts your work forever. It's not just the Alliance; our success showcases the power of the patient community in wrapping people in resources and support that makes them feel understood, supported, and empowered with information they need. People should not have to walk their journey alone.
What is the biggest misconception or piece of misinformation about colorectal cancer?
There are many, but two come to mind as the most dangerous. The first and most obvious misconception is that it is an "old man" disease. The recent tragic loss of Chadwick Boseman shed light on the reality of increasing rates of men and women (particularly people of color) being diagnosed in their forties, thirties, and even younger. We're even seeing teenage cases. It's devastating, and we are committed to finding answers.
The other is about preventive screening. There are many myths about the burden of colonoscopies and not enough discussion about the benefits. A colonoscopy might be an inconvenience for some, but it can save your life. And if you are low-risk or colonoscopy is not right for you, there are other screening methods out there that are worth pursuing.
What are some of the ways allies and supporters can get involved in the CRC community?
Great question! We have a very active #NationOfAllies and many ways to get involved, including volunteering, sharing your story, connecting with others in the community, and participating in fundraising events. There are lots of options, but you can also start small!
https://www.ccalliance.org/get-involved
What is the best way for those who are interested in learning more about the Colorectal Cancer Alliance to get in touch with somebody?
The Helpline is the primary channel by which you can reach a certified patient and family support navigator for ongoing support, a listening ear, or getting involved—or just to ask a simple question: 877.422.2030.
Outside of CCA, what do you like to do for fun?
I am a mom of two little boys, a workaholic, and we're living in a pandemic, so it's limited. ☺ I do work out every day. Exercise is my "me time" and my stress release!