Employee spotlight: Meenakshi Malhotra, Scientific Affairs Manager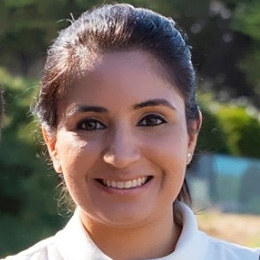 This series of employee spotlight posts highlights exceptional talent throughout various departments at Natera. Meet Meenakshi (Meena) Malhotra, who contributes hugely to our scientific writing team and interacts with various key stakeholders. You probably have seen her work if you've read through our extensive collection of oncology posters and publications.
"Meena has been great to work with and has played a key role in many important projects for the oncology team!" – Jamie Schwarzbach, Brand Manager, Oncology
Tell us a little about yourself and your background.
My name is Meenakshi Malhotra. I am part of the scientific communications team at Natera. I am originally from India and always aspired to be a scientist. I did my PhD in biomedical engineering from McGill University, Canada.
Why did you choose this field? What do you like most about this field?
Treating cancer is pretty complicated. There is no "one for all" therapy yet and, even if treated, at times it relapses. It is more than just a "field." The patients and families that are impacted face an emotional fight every day. It takes a lot of grit, determination, and strength to fight the unknown. Being part of the scientific community that is striving to find an answer is very humbling. I am happy to be contributing to the bigger goal.
How has the field transformed since you started? Where is it going?
With so many new, innovative technologies, this field is moving rapidly. I am proud that Natera, as a leader in cell-free DNA testing, has developed a technology (Signatera) that can catch recurrence early. This is the first step toward making even the existing therapies work. Although there are many underlying molecular conditions because of which the patient may or may not respond to a treatment, you have a chance at winning the battle once you know your timing is right!
With the wealth of knowledge, skills, scientists, collaborations, and resources that Natera has, I would love to see Natera expand its portfolio to novel gene therapy and targeted nano delivery technologies, from personalized detection to personalized treatment.
What are the three must-haves (e.g., coffee, notebook, sugar) on your desk during the week?
My husband's pic (his smile is my stress-buster), coffee, and my phone.
What has surprised you most about working at Natera?
The day I joined Natera, I felt I was home. I believe it's the people who make all the difference. I love Natera's vibe, the daily hustle—each day brings its own set of challenges and rewards. There is so much to learn from the people you work with. I am impressed with Natera's strong leadership and team spirit.
Outside of your work, what do you like to do for fun?
I love to make art. I have been painting for several years now. I also like to go on long drives with my husband.